You may think of Lephephe Print Gatherings as a strategy for person-to-person distribution or perhaps as an event to recognise the place of print publishing. Either way, you can't have one without the other, says fellow convenor Rangoato Hlasane — co-founder of the Keleketla! Library in Johannesburg, which is co-hosting the event.
"Publishing can be nurtured but also find a space to distribute because one of the challenges of print publishing has to with the politics of distribution: Who is able to distribute effectively?"
Key to the Lephephe Print Gatherings' prospects is its frequency. The gatherings are envisaged as quarterly conventions of people brought together by "an embrace of print culture" in more than just book form.
In that sense, a project like Ntyilo Ntyilo (fronted by singer, actress and performance artist Masello Motana) becomes a manifestation of this exploded library.

[Self published literature (Tumi Moleki)]
The project, according to Hlasane, already "looks at itself as a vocal museum or a history project which is not written", perhaps not unlike other sonically driven projects such as the Thath'i Cover Okestra, which took a jazz-outed approach to kwaito songs.
Hlasane, like Ngugi wa Thiong'o, treasures the intersection between oral forms and the written word. He and co-organisers Title in Transgression have cast their invitation-only nets wide — bringing together photographers, bloggers, printmakers, pamphleteers, filmmakers, an existing library archive as well as innovative storytelling scenarios that will see storytellers like Talya Lubinsky try interactive methods of rebuilding stories from the remnants of other tales.
"So you will have people like Tseliso Monaheng and Sifiso Gongxeka who are working towards their photographic monographs," says Hlasane, rattling off names from the programme. "Then that becomes the platform to speak about that which is still to come while they are in an environment with those who have already published."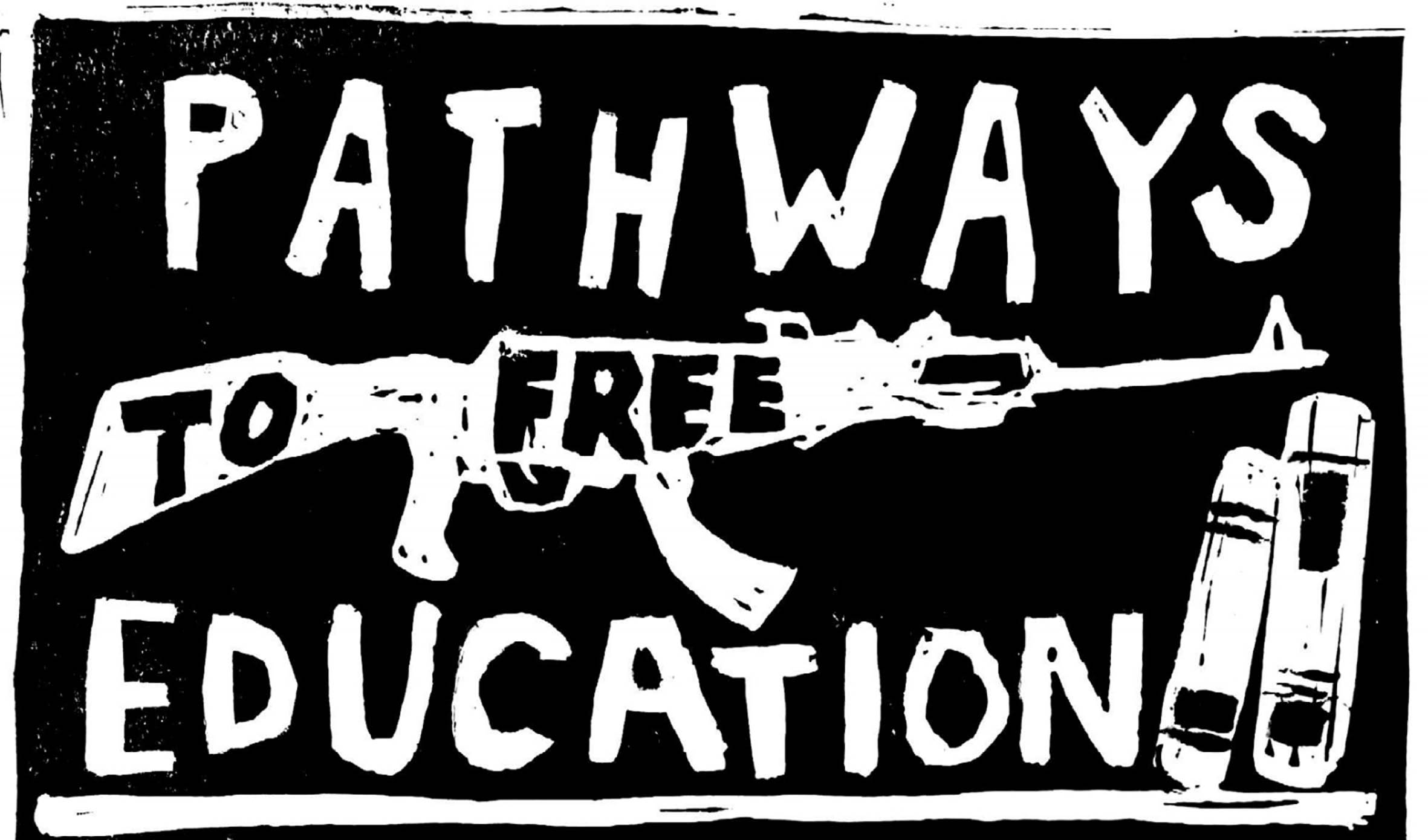 [Pathways to Free Education Volume 3 (Leila Khan)]
Hlasane's collaborators, students in the Wits visual arts programme he helps to teach, are novices at putting together an event of this magnitude, sounding overwhelmed but poised in their interview with the Mail & Guardian.
"This is way more professional than other events we have done before," says Title in Transgression member Simnikiwe Buhlungu.
"We are dealing with budgets, mailing lists, Google docs that need editing, floorplans, stages, bars, videos, posters. We are also learning how to fix what we are doing as we go along. It's kind of like a business."
The relationship between Keleketla! and Title in Transgression (a group of four art students including Dineo Diphofa, Malebona Maphutse and Boitumelo Motau) has solidified over the past year or so, sharing networks for hosting events and moving related merchandise.
Formed last year, in part as a way to resolve some of the ideological conundrums arising out of #FeesMustFall, the group steadily amassed a portfolio of print-related works such as T-shirts bearing declarations like "Teacher Don't Teach Me Nonsense", a funeral-themed event at NGO (Nothing Gets Organised), as well as a sound-based installation at Nirox Sculpture Park, among others.
For the collective, being hands-on partners in this event is a fortuitous opportunity to grow, and for Hlasane it's an opportunity to pass the torch systematically, 10 years since the establishment of Keleketla!
"In a way, this is a reopening of Keleketla! Library since we moved from the Drill Hall [near the Noord taxi rank in downtown Johannesburg]," says Hlasane, reflecting on the event from an archiving angle.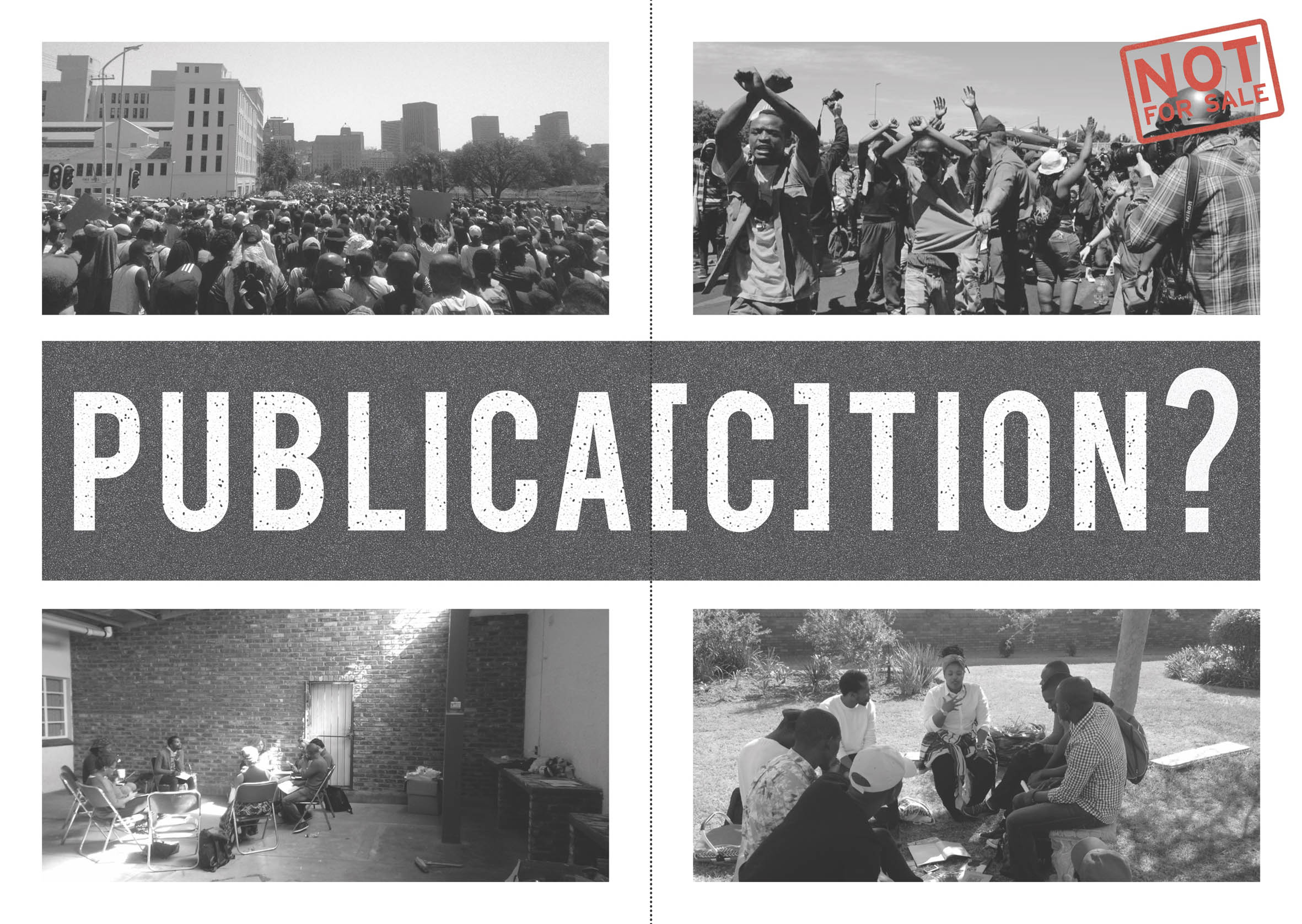 [The Publi(c)ation Collective student Broadsheet (Publi(c)ation Collective]
"The key beneficiaries of the Keleketla! Library were mostly children because they were the most engaged and they were the ones living in the neighbourhood. This place [King Kong in Troyeville] is on the edge of gentrification and there are no children around, and so our material has changed, in terms of what we have been collecting. So this is also to create a space where this material can be seen to be used by people because we believe it is special and unique."
Among the arsenal at Keleketla! Library are back issues of apartheid-era literary journal Staffrider, publications by the Medu Arts Ensemble and a publication mapping author Dambudzo Marechera's life in Harare before he died (made by artist Nontsikelelo Mutiti and writer Tinashe Mushakavanhu under the project name Reading Zimbabwe).
"It's a mapping of the different hotels, living accommodation and the bars that he circulated around. So it's like a mapping of Harare through Dambudzo Marechera. It's that kind of material that will be loanable," says Hlasane. "Our librarian will give people forms. They can take material and bring it back at Lephephe 2, three months later. And we are working on opening the library once a week."
Although most of the participants are South African, a south by south and global dialogue is in progress here (especially through reference material).
"For example, we have material of student movements from Brazil, material on indigenous farming in Mexico," says Hlasane. "Another guiding principle [for the library and event] was self-organised material, self-published, rare, inaccessible or unknown — it could be historical and not shared in educational spaces and therefore people just don't know about it. Maybe it's from a different context but is relevant here."
For student groups like Title in Transgression, the event offers a moment to look back on a genesis born out of disillusionment with violent protest and a chance to figure out how else to use their voices.
"In 2016, we were trying to figure out a way of protesting without our physical bodies being there and we wanted to protest as artists as well," says Buhlungu.
What's clear for everyone to agree on is that it is the madness of the moment and its attendant business that simply demands of us to print, publish and distribute.
Lephephe Print Gatherings will take place on November 25 at King Kong, 6 Verwey Street, Troyeville, Johannesburg. Doors open at 10am and R30 will be charged from 7pm. For more information visit keleketla.org and Keleketla! Library on Facebook