An ochre-yellow light accents the Sagrada Familia's odd angles, strange corners and looming cranes. Sitting on a bench overlooking one of Barcelona's most famous buildings the cerise strawberry helado from a nearby heladería or ice-cream parlour is sweet, cold and refreshing after a hot day traipsing around the packed city.
The area crawls with tourists and tapas restaurants nakedly profiteer from both their ignorance and the proximity to Gaudí's masterpiece-in-construction.
Sadly, Spain's delightful food scene is laced with expensive, oily and tasteless mimics. It's easy for the unwary traveller to be lured in by their deceptively authentic-looking interiors and miss out on the real gems: the jamon glistening ruby with strips of ivory fat, the coin-like slices of creamy octopus, and the simple but delicious pan con tomate — a thin slice of toasted sourdough rubbed with a slice of tomato.
Here are meals and restaurants burned into my memory from my honeymoon tour of Spain and Lisbon.
Barcelona
I loved and hated this seaside city. It's on a million bucket lists and jammed with a revolting number of tourists dumped ashore by the passing cruise ships.
When we were there, the anti-tourist riots had just ended. They were fuelled by residents's anger over unsustainable growth in the tourism sector that includes rising rents for locals, the effects on their everyday life and increasing pollution. But the city was still peppered with anti-tourist graffiti and (little did we know) slowly simmering with the rage that would coincide with the Catalan independence movement.
The city's energy swept us up and wrung us out, with some memorable meals on the way. If nothing else, a fresh fruit juice from the food market La Boqueria should be on your list. Here are some other spots (and dishes) you shouldn't miss.
La Paradeta: This unpretentious eatery has echoes of Kalk Bay in its approach to seafood: fresh and sizzling. The long queue snaking down the quiet street gives a good idea of the affordable deliciousness inside, but what we didn't expect was the weird and wonderful array of marine life to choose from — razor clams, langoustines, crabs as big as your head. Select a raw something from their countertop, take a seat and wait for the freshest meal of your life.

Bar del Pla: This slice of heaven, nestled in the hipster neighbourhood El Born and metres away from the Picasso museum, cannot be missed. Creamy mackerel with shiso leaf and beef cheek were two tapas that should be on your bucket list.
Quimet y Quimet: This bar is as big as a broom cupboard and specialises in tapas made from tinned food. A firm favourite were the anchovies with peaches, olive oil-drenched razor clams and fat white asparagus topped with salmon and cheese.
Madrid
This city is a cultural feast and was the heartbeat of the 1920s, visited by literary greats such as Ernest Hemingway and the Fitzgeralds, F Scott and Zelda, among others.
It has a food market scene to love (we stopped by Mercado de San Antón for delicious tuna tapas) and beautiful parks to enjoy them in.
Museo Chicote: Start your evening off with cocktails from the broody Museo Chicote bar. The spot was one of Hemingway's haunts and makes some of his favourite drinks, and a few dozen others you probably haven't tried. Head there early before the crowds pick up.
El Winnie: Spain is going through an Asian food revolution, and Madrid is packed with bao and dim sum restaurants well worth trying, even if they weren't on your original meal itinerary.
We loved the quirky restaurant El Winnie, emblazoned with a picture of the dancing yellow bear. It served dim sum (also called japonesa tapas), juicy pork buns and a lip-smacking ramen. By the time we left the street was filled with hopefuls queuing for a meal. We spotted the pork buns on every table.
Chocolateria San Gilés: Who can visit Spain without eating churros? This crispy fried pastry is delicious dipped in small glasses of thick hot chocolate, but many locals have it with an espresso instead.
Granada
This small Spanish town has been occupied for millennia. Its cobbled, tiled and narrow crooked streets are fit only for pedestrians and are populated with wide-eyed feral cats. With a heavy Moroccan influence, you'll find an authentic lamb tagine hits the spot after wandering the market souks or, best of all, a shawarma filled with olives, feta and the usuals.
At €6 for a meal and drink, my regret is that I had only one of the creamy Granadian shawarmas. Best of all, tapas are free with every beer you order.
It's easy to fill up on unexpected deliciousness, such as crumbed eggplant chips, simply by ordering a drink or two. My favourite treat was cassata, a rectangular slab of ice cream served in a cone from Heladería los Italianos — especially delicious after a day walking the legendary fortress and palace, the Alhambra.
(Fun fact: Granada means "pomegranate" and you'll spot pomegranates all over the official city insignia and signage.)
Lisbon
If you can, it's well worth it to sneak in a few days to the capital of Portugal at the tail end of your Spanish adventure. Cheaper than Spain and extremely Instragrammable, with graffiti, trams and a pastry scene that puts hearts in my eyes, Lisbon was the highlight of my honeymoon.
End your days wandering the hilly streets and popping into the tiny bars serving delicious sour cherry liqueur, ginjinha, in chocolate glasses.
Pasteis de natas: These creamy little pastries are €1 each and sold all over Lisbon. Buy one every chance you get — it's impossible to find a bad one. The best ones I found were from Manteigaria, a pastry shop. They sell close to 8 000 of the delectable mouthfuls a day. I have literally had dreams about these pasteis de natas.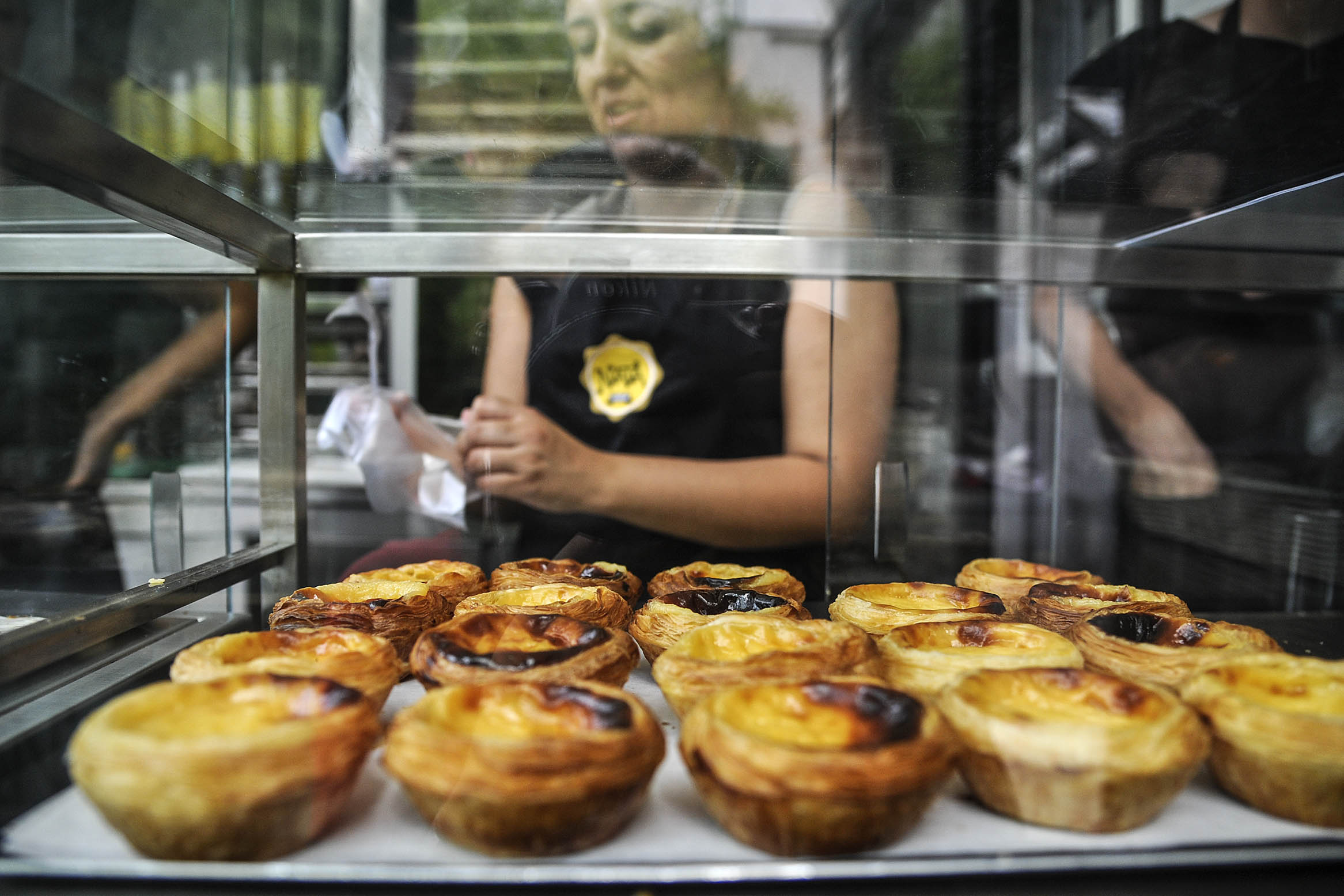 [Pasteis de natas: Creamy treats sold all over Lisbon]
Time Out market: This market was so packed with culinary adventure we visited it twice. It's a curated market, with only the best of Lisbon's food scene invited to have a stall. The emerald-green matcha gin and tonic was a highlight, as was the black tempura cuttlefish, an octopus hotdog and an incredible chimichurri chicken prego roll.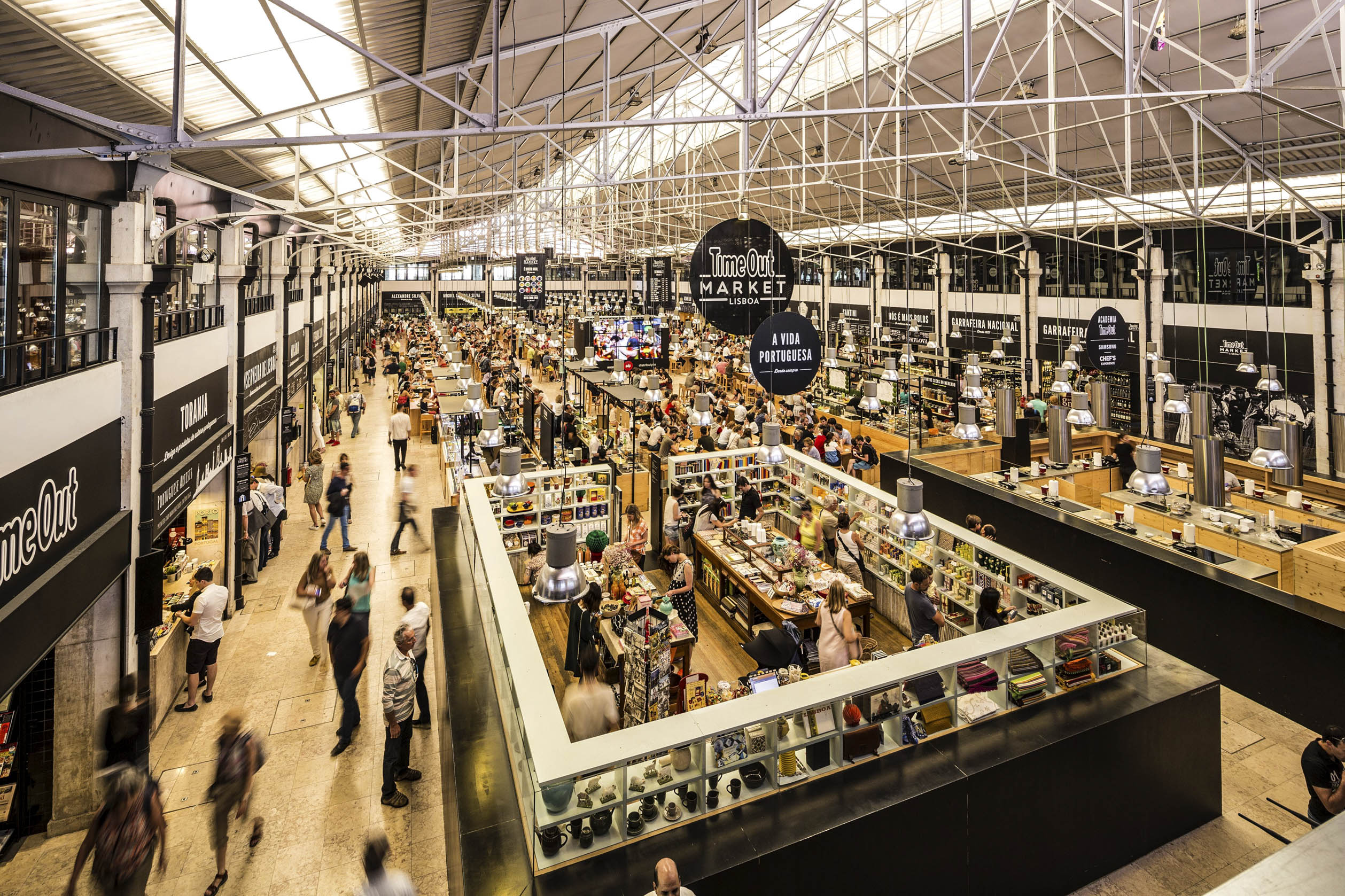 ---
Must eats
Jamon: this cured ham is found all over Spain and should be pounced on every chance you get.
Manchego cheese: firm and flavourful, this pairs well with jamon and a little bread.
Fresh fruit: Spain and Lisbon have a beautifully lush fresh fruit scene. The fragrant and subtly sweet figs were my favourite.
Patas de bravas: Delicious mouthfuls of salty fried potatoes.
Spanish omelette: Cheap and delicious, this is a great filler if you need a quick bite.
With a little planning, a trip to Spain and Lisbon could be the culinary highlight of a lifetime.
---
---
Tips for travelling through Spain and Portugal
Even though individual tapas dishes are inexpensive, they quickly add up — especially when you're converting back to rands. You can expect to spend about €50 for two people to share a few dishes with a beer each.
There are two important Spanish phrases to learn: "dos cervezas, por favor" (two beers, please) and "una tabla para dos" (one table for two). Most people can speak some English, but it's better to memorise some basic Spanish phrases to ease the conversation and to be polite. With some simple gestures and Google Translate's offline dictionaries you'll be good to go pretty much anywhere.
Don't try to talk Spanish in Lisbon! Many Portuguese resent being treated like a Spanish province and would rather converse in English.
If you see a tourist attraction or a Starbucks, chances are the restaurants around them will be opportunistically overpriced and sub-par.
A really useful travel app is Spotted by Locals. Again with offline options, the app is free — you buy a guide for each city. It collates recommendations from locals and has a great "near me" function that lets you choose restaurants, bars and off-the-beaten-track spots loved by the city's inhabitants.
The Google Maps offline function indicates continually updated public transport options (even with start and stop times — we discovered minutes after the last bus left us behind in Barcelona) and is extremely accurate.
Don't bother to get cellphone roaming. In my experience, 90% of all locations had wi-fi, and a lot can be done offline with a little planning. We used the wi-fi to get our routes, and then followed them offline.
As you can see, there's a lot you can do with your cellphone. Getting a reasonably sized power bank will save you a world of stress after a long day out.
If you're going to use taxis, I recommend Uber rather than metered taxi service — especially in Lisbon. The taxi drivers are notorious for trying to milk customers and, after one bad experience (getting from the airport to our Airbnb), we tried it out using local wi-fi.
Tipping is optional. I spoke to the waiters and they said tips are not expected.
It's common for bread, cheese and butter to be set down on the table, but beware — these are not free.