Artificial intelligence (AI) has been getting a bad rap lately. It's been blamed for the way Facebook and Twitter promote fake news on the basis of showing people more of what they are already clicking through to read. That in turn is credited by some with handing Donald Trump the US presidency. It's also been blamed for introducing bias into anything from home loan approvals to facial recognition systems, which tend to be more accurate with Caucasian faces than those of others.
But a team of scientists at a research facility in Braamfontein, Johannesburg, hopes to change all that.
"We are working on beneficial AI," says Tapiwa Chiwewe, a scientist at IBM Research, which opened its second global research lab in Africa at the Tshimologong precinct in 2016. "We want to create AI that benefits people. In Africa, there are all kinds of socio-economic problems and we're in a unique position to create AI that improves people's lives. But we also want to create economic and social value."
The emphasis is not on AI for its own sake, or operating independently of humans, but on creating symbiotic systems that help humans perform their roles better.
"These range from data driven healthcare to digital urban ecosystems," says Craig Holmes, vice president for Industry Solutions and Business Development at IBM Middle East and Africa. "We're researching air-quality management in partnership with the city of Johannesburg and Tshwane, we're looking at traffic management in cities, and even wildfire risk prediction in the Cape Town area."
Many of these projects will deliver benefits in the medium- to long-term future, but at least one is ready to roll out. It was launched on 22 April, marking Earth Day. Appropriately, it is aimed at promoting sustainable energy.
It's called EmpowerSolar, and is a web-based application for designing solar powered solutions for domestic and business use.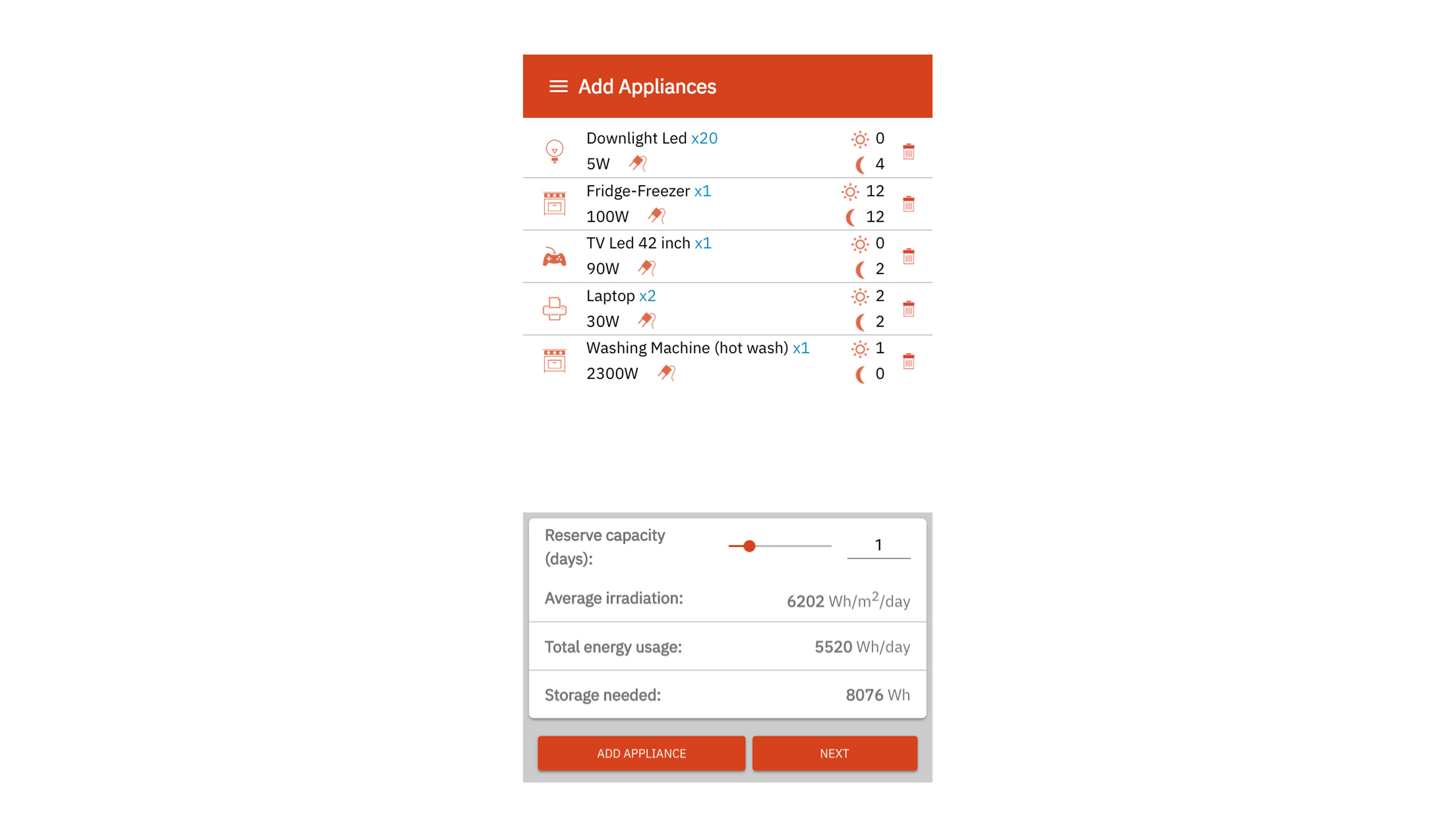 IBM explains: "The app uses a sophisticated algorithm to determine an optimal solution, along with an estimated price based on current typical prices. The algorithm takes into account the amount of sunlight at your chosen location, along with the specified usage of the various electrical appliances chosen."
The app was developed by Dr Ashley Gritzman, a young scientist at IBM Research. By coincidence, he had graduated as an electrical engineer and was an installer of solar systems before joining IBM.
"I had a small startup, assessing people's energy usage, monitoring household or small business consumption, and told them how to reduce their energy use, ranging from changing old light bulbs to LED, to using solar geysers for water heating. Then we'd spec the systems, and design and install. I saw there was a big divide between home owners who may want energy efficiency, and the knowledge of installers and retailers of the technology.
"When I joined this lab, they asked, what contribution can we make to the energy question in South Africa? I saw a big gap of information. For example, solar is regarded as way too expensive for many and they wouldn't look at it. But in fact, people have no idea what it will cost. If they assume it will cost hundreds of thousands of rands, they won't even pick up the phone to enquire. I wanted to bridge the gap between homeowners and new technology."
Part of Gritzman's motivation was the dramatic fall in solar costs: the price of panels has fallen 50% in the last five years. The Renewable Energy Independent Power Producer Procurement (REIPPP) programme, designed to encourage private investment in renewable energy, has seen contract prices fall from R4 to 65c per kilowatt hour since 2011.
"South Africa has great resources in both solar and wind, and there is no longer a question that it is cheaper than new-built coal or nuclear. But it has to be super user-friendly, so that my parents can use it; it has to be technically accurate and pricing has to be correct, or else it's not useful. And the electrical designs it comes up with have to work and be correct.
"When I was doing the solar stuff myself, a design would take a lot of time and a lot of calculations to do an initial quote. Then they also want to run the garage lights, for example, and you have to redo it. The app will be useful to home owners, but also to installers to do a quick design and costing."
Gritzman's PhD was in machine learning and image processing, which fits in perfectly with the artificial intelligence focus of the Research Lab and IBM's Watson AI engine, which has been used for numerous medical breakthroughs, ranging from cancer research to tuberculosis treatment. However, EmpowerSolar fed a personal passion, and he was quickly able to drive it from idea to reality.
"It's a responsive web site, it looks like an app, but doesn't have to be downloaded. You choose your location, and we ask a few questions that are easy to understand. The big difference is in how much sun you get. We've got little sliders, and ask people to use those to select direction, angle of roof and appliances they'd like to use with solar energy.
When I was an installer, we'd just say how many kilowatt hours do you use a month, and most people don't know. So we build this from the ground up, with categories, like home office, kitchen, and lighting, and within each we have a database of generic appliances."
Part of the purpose of the service is to promote energy-efficient behaviour. As users indicate the appliances they use, messages pop up that, for example, advise that an electric geyser uses a large amount of electricity, and indicates the cost and benefit of installing gas or solar. Nothing is hidden. The application includes costs for solar panels, batteries, charge controllers, inverters and installation costs.
Gritzman is as enthusiastic about South Africa's advantages as he is about solar power.
"South Africa really is sunny. If you compare us with Germany, one of the world leaders in solar, the least sunny spot in South Africa still has more sun than the most sunny city in Germany. That puts in perspective what opportunity we have."
* Try out the EmpowerSolar application at https://empowersolar.mybluemix.net
This article originally appeared on gadget.co.za and is republished with permission