For mixed martial arts to survive in an entertainment-driven industry, it must fight its base desire to pursue grisly authenticity and flaunt more plastic trappings.
Last weekend's Ultimate Fighting Championship (UFC) heavyweight knockout was a beautiful portrait of mixed martial arts (MMA), one that the purists would have drawn and hung on gallery walls themselves.
Daniel Cormier is their fighter. A man who dedicated his prime to mastering Olympic-level wrestling. Who only stepped into an octagon when he was in his 30s. A competitor who, unlike a disturbing number of his peers, has never found himself staring at a failed drug test or in the relentless clutches of scandal.
When his right fist connected with Stipe Miocic's chin out of the clinch on Saturday evening it was a moment to revel in that purity. Cormier had become only the second UFC double division champion and he did it the right way, no short cuts. Arguably it was a righteous victory of sorts for a sport that has spent large chunks of its history battling for legitimacy.
Then something weird happened.
The newly christened "baddest man on the planet" called out Brock Lesnar, goading him into joining him in the ring. WWE's supreme star blithely obliged, striding past the cage doors before shoving Cormier and unleashing profanity into the microphone.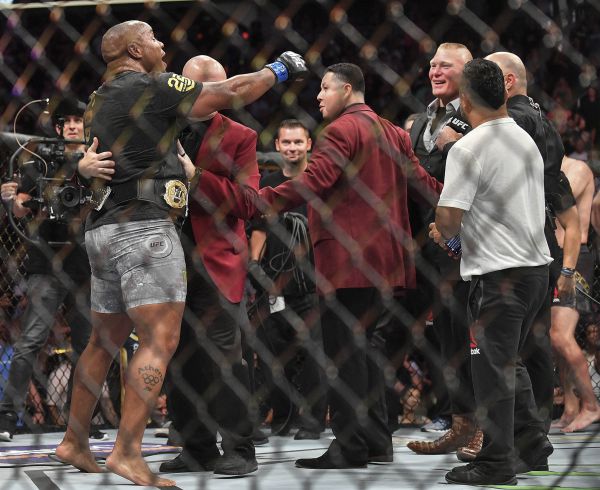 Daniel Cormier (left) challenges Brock Lesnar (right) after winning his heavyweight championship fight — which he won by a first-round knockout. (Sam Wasson/Getty Images/AFP)
It was all very reminiscent of Lesnar's current full-time job: "professional" wrestling. For better or worse, that's the direction the UFC has so clearly decided to set off on. It's almost a 360-degree turn for a company that's prided itself on offering real competition over the machinations of Vince McMahon's circus.
As by far the most consistent and lucrative production, the UFC brand's fate has always been and continues to be intertwined and conflated with that of the sport of mixed martial arts itself.
When it first launched in 1993, the UFC marketed itself as a no-holds barred organised dogfight. There were few to no rules as competitors were unleashed into a cage to destroy one another in any ways they could concoct in their minds. The only two restrictions — eye-gouging and biting — were punished merely by fines. Even crotch-grabbing and fish-hooking were permissible. Weight classes and gloves were naturally not part of the conversation.
It wasn't dirty — you did what it took to win. With today's eye, it's surreal watching the wars that would ensue between two men. Even a legend like Royce Gracie — credited for bringing the art form of Brazilian jiu-jitsu into MMA — can be seen clutching a full head of hair as he rips at it to gain positional advantage.
That same viciousness would go on to expose itself as the company's most damaging attribute. The UFC increasingly struggled to book events, with United States state laws cracking down on the unregulated brutality. As much as it might have done it for fighter safety, it had to co-ordinate its rules better merely to survive. It's been a lengthy journey — to the extent that a Bill legalising MMA in New York was only signed into law in 2016. Yet the Odyssean mission has largely been a success.
Athletes entering the sport do so knowing that they're entering an environment that has structures to protect both their integrity and their health. In theory, someone can ascend to the pinnacle of their division on hard work and ability alone.
In the space of a few minutes, Cormier preached that philosophy before tearing it down. UFC president Dana White has all but confirmed that the Lesnar fight can go ahead, meaning the pro-wrestler will get a shot at the company's most prestigious title despite last winning a match in 2010. Although he's not alone in his opinion, No 2-ranked heavyweight Curtis Blaydes has been particularly vocal in the aftermath of Saturday. With only one 2016 loss to his name, he has done everything possible since then to force his name into the conversation. He sat in the Nevada arena presumably to scout the next champion and likely his next opponent. Yet, as the crowd cheered for the Lesnar-Cormier antics, reality overshadowed ambition.
"Tired of all the politics," Blaydes tweeted after the match. "Like is it still even about fighting, first CM Punk now Brock Lesnar, I'll just continue to grow as a martial artist and become more dangerous and I refuse to resort to that WWE bs fake arguing just to draw in lame ass casual fans pfft."
The CM Punk experiment Blaydes referred to should have been the first significant warning about the extent to which organisers would value entertainment over worth. Like Lesnar, he had built up a huge following in the WWE. Unlike Lesnar, however, he possessed no incredible physical advantages and had relatively little experience in any martial art.
Punk was hammered in his first fight yet last month he was given the platform — on the main card on pay-per-view — to showcase his worth a second time. It wasn't a convincing demonstration.
The disgust among the fighter fraternity was palpable; disdain for the opportunity afforded to an amateur who had done nothing to earn it.
As loud as the moans grow, it's difficult to fault anyone in the developing equation. The UFC is doing what it needs to thrive after losing, at least temporarily, its two biggest stars.
Conor McGregor hasn't fought for nearly two years thanks to finding a true Irish pot of gold at the end of the Floyd Mayweather rainbow. The fate of Jon Jones, meanwhile, remains opaque after testing positive for the steroid turinabol after his last fight against Cormier. A superfight involving Lesnar is the opportunity the brand needs to grow and attract a wider audience to the sport. Throw in his excessive trash talking and it's a guaranteed ratings flourish.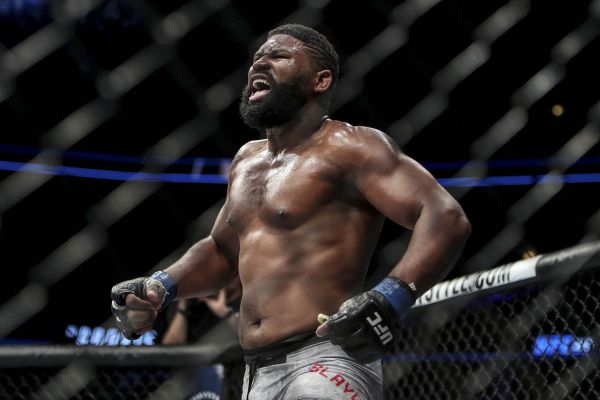 Curtis Blaydes has been particularly vocal about the WWE antics. (Dylan Buell/Getty Images/AFP)
Cormier himself can smell the pay cheque and is not ashamed to talk frankly about it.
"He [Curtis Blaydes] will never share the Octagon with me, it's not a big enough fight," he said on Sunday. "I'm only fighting big fights now. I'm not going to war with these guys for less money. I want big fights. I'm 39 years old."
The irony of the UFC is that it exists in contrast to, but also because of, the WWE. Its original purpose was to offer a visceral juxtaposition to the scripts of pro wrestling yet it simultaneously drew heavily on its premise of spirited feuds and carnival entrance music. Once more MMA has seemingly realised it must offer the same trappings if it wishes to offer the same breadth of interest and snatch the subsequent profits.
We may not like it, but we're here to be entertained and the UFC is likely only warming up.