The Zondo inquiry into state capture kicked off its first sitting of the year with a surprise witness.
The first day was expected to deal with procedural issues. Instead, former Bosasa chief operating officer Angelo Agrizzi took the stand and detailed how the security company, under the leadership of its then chief executive Gavin Watson, allegedly seized numerous lucrative tenders at state entities with cash bribes.
READ MORE: Bosasa scandals shakes up state capture saga
In his introduction to Agrizzi's evidence, the head of the commission's legal team, Paul Pretorius SC, explained that the inquiry's focus would shift from the controversial Gupta family in the coming weeks.
Agrizzi's evidence falls under term of reference 1.4, which tasks the commission with investigating the unlawful awarding of tenders by organs of the state "to benefit the Gupta family or any other family, individual or corporate entity".
In testimony that gripped the nation, Agrizzi told the commission that it was standard practice for Bosasa — which specialises in assisting companies to manage their business — to pay off union and company officials to secure multimillion-rand tenders at mining companies, the South African Post Office (Sapo) and Airports Company South Africa (Acsa).
On the second day of his testimony, the commission, chaired by Deputy Chief Justice Raymond Zondo, screened a video showing senior Bosasa executives in a company vault counting out large wads of money.
Bosasa chief financial officer Andries van Tonder, the company's spokesperson Papa Leshabane, Watson and Bosasa chairperson Joe Gumede are seen inside the vault. The money was used to bribe officials or as hush money for Bosasa employees, Agrizzi told the commission.
In the video Watson can be heard calling the cash "monopoly money".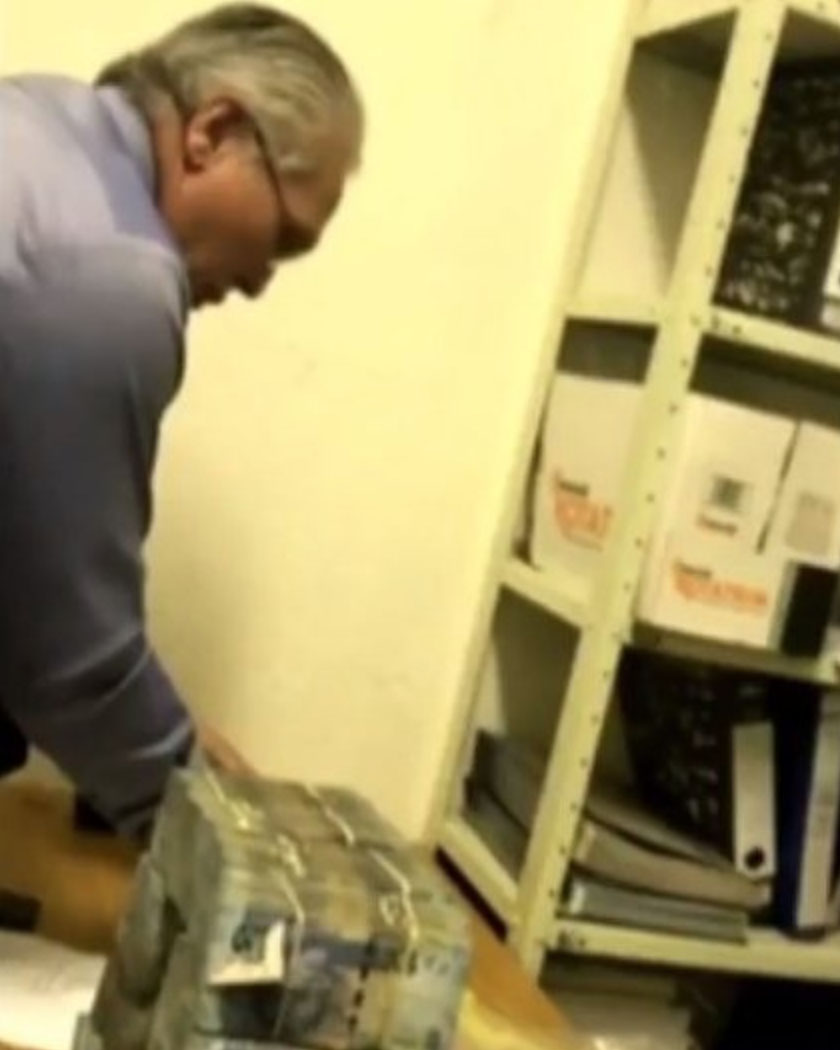 Video footage showing then Bosasa chief executive Gavin Watson handling bribe money.
Agrizzi confirmed that the cash Van Tonder was counting would have amounted to R1-million.
The video was shown to corroborate some of Agrizzi's prior testimony, namely that Bosasa had vaults filled with money that was predominantly used for bribes.
The day before, Agrizzi detailed a particular operation at OR Tambo International Airport, where Acsa officials were allegedly regularly handed gray security bags filled with money so that Bosasa would retain its 2001 security tender with Acsa.
Agrizzi told the commission that these payments were still being made when he left Bosasa in 2016.
Agrizzi said that up to R6-million in bribes were paid in cash each month to various officials at companies Bosasa was doing business with. The vaults had to be restocked with cash weekly, he told the commission.
On Mondays the team would ask: "What is the order of chicken?", Agrizzi told the commission. This was a code to figure out how much bribe money would be needed that week, he explained.
Agrizzi, who worked at Bosasa for 19 years, said in the company's early years the money would be drawn from banks. But later the money would have to be laundered and obtained either from Zimbabwe or from betting houses, he alleged.
Bosasa and Watson have fielded a litany of allegations of corrupt dealings with state departments for more than a decade.
In 2007 the Special Investigating Unit (SIU) began investigating Bosasa for alleged improper conduct relating to tenders the company was awarded.
The SIU's 2009 report on the company found that Bosasa officials had paid bribes to former prisons boss Linda Mti and the department of correctional services' then chief financial officer, Patrick Gillingham, to secure tenders from the department. The report was handed to the National Prosecuting Authority (NPA).
On Thursday, Agrizzi confirmed that Gillingham was paid bribes by Bosasa. "Most definitely money was paid to Patrick Gillingham. I was involved," he said.
Agrizzi, whose testimony had been kept under wraps because of alleged threats to his life, announced last year that he was prepared to testify about the extent of corruption at Bosasa.
According to an affidavit by the commission's lead investigator, Frank Dutton, read out before Agrizzi's testimony, Watson's former "right-hand man" will implicate 38 individuals during the course of his evidence.
Former SAA board chairperson Dudu Myeni was the first casualty of Agrizzi's evidence, after Dutton's affidavit revealed that she had allegedly shared confidential NPA documents with him and Watson at a 2015 meeting at the Sheraton Hotel in Pretoria.
On Wednesday Agrizzi told the commission that Bosasa, formerly named Dyambu Holdings, experienced a boom in business in the early 2000s when it entered into agreements with various companies, including Sasol, Sapo and Acsa.
Agrizzi alleged that union officials at Kloof Gold Mine in Westonaria and at Sasol were paid bribes by Watson to get them to incite industrial action, calling for catering tenders to be awarded to Bosasa.
Agrizzi named the late National Union of Mineworkers official Joseph Mafika and former Chemical, Energy, Paper, Printing, Wood and Allied Workers' Union general secretary Simon Mofokeng as receiving bribes. Mofokeng was allegedly sent R15 00 worth of groceries each month for his help at Sasol.
According to Agrizzi, a similar arrangement was struck with Sapo chief executive Maanda Manyatshe and head of security Siviwe Mapisa, who were allegedly showered with expensive gifts in return for their help with a security tender that was awarded to Bosasa in 2000.
Mapisa is the brother of then correctional services minister Nosiviwe Mapisa-Nqakula. In 2009 the Mail & Guardian reported that he was the business partner of Watson's brother, Valence. Valence Watson's business partners included Girlie Majola-Pikoli, wife of axed NPA head Vusi Pikoli.
Majola-Pikoli and Mapisa-Nqakula were both Dyambu shareholders, Agrizzi told the commission. Lindiwe Sisulu, Baleka Mbete and Nomvula Mokonyane were also mentioned by Agrizzi as shareholders of Dyambu, an ANC Women's League front company. The women's league reportedly cut its ties with Dyambu in the early 2000s.
Majola-Pikoli confirmed that she was a Dyambu shareholder "in the beginning". She said she would "study" Agrizzi's allegations. Mbete also confirmed that she had been a shareholder in Dyambu, but "resigned a long time ago".
On Thursday Sisulu denied in a statement that she had ever been a director of the company. At the time of going to print, the others implicated by Agrizzi were yet to speak publicly on his testimony. The M&G could not reach them for comment on Thursday afternoon.
Watson has fostered close links with the ANC because of his family's anti-apartheid struggle credentials. Though Watson has emerged as the key player in the alleged corruption at Bosasa, Agrizzi has not denied his own complicity in these dealings, regularly admitting that his intimate knowledge of the ins and outs of the operation has to do with his being at its centre. At times he delivered the bribes himself.
But Agrizzi has also been at pains to explain how people are pulled into participating in corruption. Watson was a charismatic leader and Bosasa became like a cult, he said.
Bosasa employees who refused to comply with Watson's orders would be "disposed of", he said but did not explain what this meant.
Describing one veiled threat, Agrizzi recounted how Watson called him to a meeting with controversial intelligence cop Colonel Nkosana "Killer" Ximba at the Michelangelo Hotel in Sandton. Ximba allegedly showed Agrizzi a .45 Colt he was carrying in a bag.
Agrizzi told the commission that bribe money would be used to buy loyalty. "You feel important. You're caught up in a cult. It's a trap. Bribery is a trap, because you raise your standard of living … You raise it to that bar. And as soon as you start complaining about it, they take it away … I wanted to tell the country how easy it is to fall into this trap."
---
---
Bosasa no stranger to controversy
Allegations of corruption at Bosasa have been making the rounds in the media since 2006, when Beeld began reporting on the relationship between the company and the department of correctional services.
READ MORE: Prisons graft: Bosasa's empire of influence
The Special Investigating Unit (SIU) began its probe into Bosasa the following year for alleged improper conduct relating to tenders the company was awarded.
The SIU's report was finalised in 2009. It found that Bosasa officials had paid bribes to former prisons boss Linda Mti and the department of correctional services's then chief financial officer, Patrick Gillingham, to secure tenders from the department.
The report was handed over to the National Prosecuting Authority.
Also in 2009 the Mail & Guardian uncovered Bosasa's ties to a number of high-profile politicians and administrators.
In a series of investigative pieces the newspaper revealed that a number of people who benefited from Bosasa contracts, or who were linked to the company's chief executive Gavin Watson and his politically connected family, had links to then-president Thabo Mbeki's office.
The M&G also revealed that Bosasa sought to interdict the SIU's investigation, claiming that the unit had leaked sensitive information to the newspaper.
The M&G had previously published exposés of collusion between Bosasa and senior correctional services officials, including Mti and his confidant, Gillingham.
Mti's payment allegedly included free air tickets, hotel accommodation and paying for the design of his luxury home in Midrand.
Bosasa reportedly received nearly R3-billion in contracts from the department.
The company's web of influence also extended to the departments of justice, home affairs, transport and some provincial departments.
The M&G revealed that confidential documents were leaked to Bosasa by Gillingham, sometimes months in advance of a tender being publicised.
The company also allegedly had access to tender documents for major prison projects worth hundreds of millions of rands before they were advertised.
On Thursday, former Bosasa chief operating officer Angelo Agrizzi confirmed that he had personally paid Gillingham bribes.
The SIU had previously said Gillingham was paid "at least" R2.1-millon in bribes, including cars for him and his children as well as air tickets.
In 2012, Bosasa took the M&G to court, after it asked the newspaper to turn over notes and recordings of interviews with sources, source documentation and unpublished drafts of stories relating to the company. Bosasa lost the case and was denied an appeal.
A damning report by the SIU was presented to Parliament in 2009, but the investigation into the company has seemingly stalled. A forensic report was finalised this week by the Hawks. — Sarah Smit