This is the third year that Tumelo Mosaka will be curating the fair, with his signature section being TOMORROWS/TODAY, a cross-section of emerging artists from Africa and around the world. Back in 2017, multidisciplinary Ghanaian artist Serge Attukwei Clottey and his exhibition, My Mother's Wardrobe, served as the yellow brick road to conversations on womanhood. Last year, Angolan multidisciplinary artist Januário Jano's body of work, Mponda, told of a scared mission, "When I tell my story, basically that activates other people's memory towards those stories," he said. While Clottey's vision of material culture manifested in his late mother's clothing and as yellow gallon containers, Jano's was fabricated in the feminine style of his kin and remnants of his childhood drawings.
As the artists of today draw on their personal histories and memories, the past consumes the present. Exhibiting in this year's TOMORROWS/TODAY section is Michael Cook, a Brisbane-based photomedia artist. Cook's photographs restage colonial-focused histories and re-inscribe the contemporary reality of indigenous populations. Cook brings his kin from the periphery to the forefront, inviting us to speculate indigenous cultures in poignant scenes of societal structure reversed, spatialising processes of discovery within Australian heritage.
Cook is the only artist from outside the geo-political borders of the Global South in this section, with all the other galleries focusing on the African continent. Conversations on indigeneity and land tend to be thought-provoking and give substance to creative forms of resistance in the modern world. The selection of artists by Mosaka indicates those that are, on one hand, dwelling in the borders of surviving the art market. Firmly gripped in the other hand is what 20th century Nigerian artist Ben Enwonwu described as one of the problems of the African artist today: "an embodiment of the struggle for self-preservation."
Cook, along with nine other artists showing in the TOMORROWS/TODAY section, are competing to win a R50 000 prize and a solo exhibition at the Zeitz MOCAA. This opiate reward system seems to position the ICTAF as a go-between, nestled at the intersections of art and commerce.
Artist and writer Thuli Gamedze put forth a real question in 2017, asking, "with the ownership of 'cultural commodities"'firmly in the hands of colonial descendants, who continues to benefit from events like the Cape Town Art Fair?"
After all, in the postcolonial context, the new cultural geography is transformed by the patrons and mediators who come to the market hungry for consumption. Cultural brokerage is burdened with the task of translating values and meaning that were once local and regional to be legitimised in a global circuit. And the circuit is fast-paced, with African cultural capital flowing rapidly into the hands of foreign patrons, further embedding Africa's position of economic dependency.
Argentinian semiotician and decolonial theorist, Walter Mignolo, speaks on the trajectories of the art world. Ultimately, he argues, aesthetic values are being replaced by market values; and an international art fair such as Cape Town's very own is the marketplace wherein art becomes an investment, akin to gold, land and property. This is not the sweaty and chaotic marketplace downtown, running alongside a taxi rank, where the patron is your neighbour. Your potential art investments are partitioned by white-walled booths, a transplant of a gallery from the diaspora and the commercial galleries on the continent.
---
---
A healing process of delinking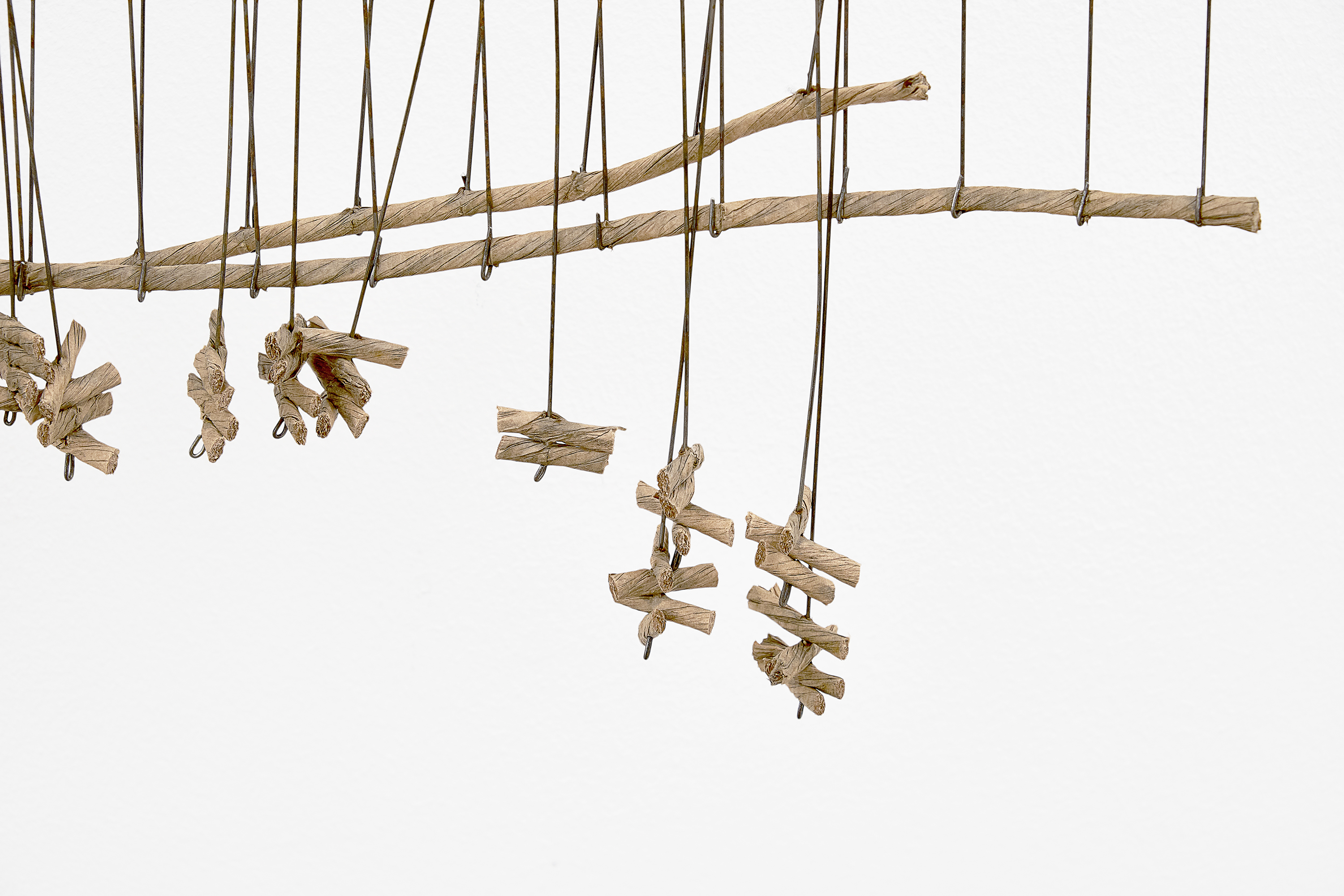 Untitled, notes in translation (i) by Bronwyn Katz
On Friday night, you can catch your breath outside the Cape Town International Convention Centre (CTICC) during gallery night, which provides fairgoers with a fuller view of Cape Town's visual art scene. Jump on a bus from the CTICC to gallery hop through the CBD and Woodstock.
blank projects in Woodstock presents / // ! ǂ, a solo exhibition by Bronwyn Katz. Born in 1993, in Kimberley, South Africa, Katz is dealing with the epistemic trap in which we have to deal with a vocabulary which is local and has become global, having developed a new system of notation to signify the phonetics of an imagined creole language. Through knowing and understanding, Katz is enunciating what Mignolo would describe as decolonial artistic creativity.
In what could be portrayed as a healing process of delinking, Katz has created new visual forms with iron ore, steel, copper and string, going beyond to incorporate her installations and sculptures with aspects of sound and performance courtesy of sonic artist & performer BŪJIN and fashion designer Tsepo Tsotetsi. Katz is no stranger to collaboration, being a founding member of iQhiya, an 11-women artist collective which has performed across various spaces, including Documenta (in Kassel and Athens), Greatmore Studios and Iziko South African National Gallery. In the decolonial option, building the communal is fundamental to liberating sensibilities.
What does the liberation of sensibilities in global artistic parameters mean if those sensibilities are being designated by square metre?
It's about the story we tell ourselves, the institutional houses we visit and resist the urge to permanently inhabit. There are many artists creating on the borders of the art world while contributing to decolonial sensibilities, how we support and consume these sensibilities will determine the new perspectives we gain on art as a hybrid form of knowledge.