On a warm Sunday afternoon, in the sprawling garden of a club in Sandton, 26-year-old Tawfiq stands proudly next to a marijuana plant named Diesel. People stream towards Tawfiq to congratulate him; some ask to take selfies with him and the plant.
Tawfiq is not a celebrity. Diesel is. The plant is an undeniably impressive specimen, standing a metre tall. Its perfectly concentric rows of buds glow purple in the sunlight. It is 84 days old, a sativa-dominant hybrid strain grown using advanced hydroponics and high-pressure sodium lights.
Tomorrow, Diesel will be harvested. Today, however, the plant is making stoner history. According to the admiring onlookers, this is the first flowering marijuana plant to be officially displayed at a trade fair anywhere in Africa.
Marijuana is illegal almost everywhere else on the continent. But here, in South Africa's richest suburb, against the backdrop of dazzling tower blocks belonging to law firms and insurance companies, a brand-new industry is taking shape — one that its advocates say will transform South Africa's economy. But not everyone is so sure that the profits from the expected legalisation of cannabis will be distributed fairly.
The GrowUp Expo bills itself as the country's premier showcase of high-grade cannabis and everything you need to plant, grow, sell, smoke and ingest it. But this is no typical trade show. A heavy whiff of herb greets you at the entrance, and it only gets stronger as you walk inside. The Notorious B.I.G. once said "never get high on your own supply", but no one here has been listening. Punters and exhibitors alike are puffing and passing and dabbing with abandon. "Not everyone arrives here high," says a bar tender as she pulls a pint of hemp-infused lager. "But everyone leaves high."

'Diesel' (above right) enjoys its last day before it goes up in smoke. (Image: Simon Allison)
The GrowUp organisers have worked hard to create a relaxed vibe. They are selling a lifestyle, after all, one that is broadly incompatible with the sterile white lights of a convention centre. Hence the comfortable white sofas for people to sprawl on, the DJ playing reggae and only reggae, and the generosity with the high-grade free samples. In one corner, there is a competition to see who can roll the shapeliest spliffs; in another, a bartender mixes bespoke cannabis-infused cocktails, and customers choose either CBD (cannabidiol, used mostly for medicinal purposes) drops or "naughty" THC (tetrahydrocannabinol, the component of cannabis that makes you high). Everyone present appears to be having really interesting conversations.
Make no mistake, however, the mellow atmosphere cannot disguise the fact that this is big business. Or at least it will be. In September last year, in a landmark judgment, the Constitutional Court legalised the private use and cultivation of cannabis. Full legalisation of marijuana for both medicinal and recreational use is expected to follow. This might come sooner rather than later. In his budget speech last month, Finance Minister Tito Mboweni indicated that there will soon be a change in policy when it comes to "the green thing".
When the change comes, Warren, who has been smoking marijuana for his entire adult life, will be ready, along with his "consortium". His first name is all he gives us. Although he maintains he is not doing anything illegal, he says it is not always easy to know what is and is not legal in the current environment.
"There's a gold rush going on at the moment," says Warren. South Africa, of course, is no stranger to gold rushes, and Warren knows that it is rarely the panhandlers who make the real money. He has got together with a group of other specialists — a farmer, someone who clones marijuana plants, an expert in medical marijuana and an expert in recreational marijuana — and together they offer services to anyone who wants to get into the industry. Warren himself is the delivery and logistics guy.
"We want to not necessarily mine gold but we want to supply spades and gold pans to the industry," he says.
Also primed for full legalisation is Neels de Kock, a mechanical engineer who came out of retirement to design irrigation systems for hydroponic grow houses. He is not a regular smoker. In fact, the first time he ever tried marijuana was at GrowUp. "Weed? Never in my life. Yesterday I had one draw just to see what it feels like. Everybody else was having a good time. And I was singing all the way going home."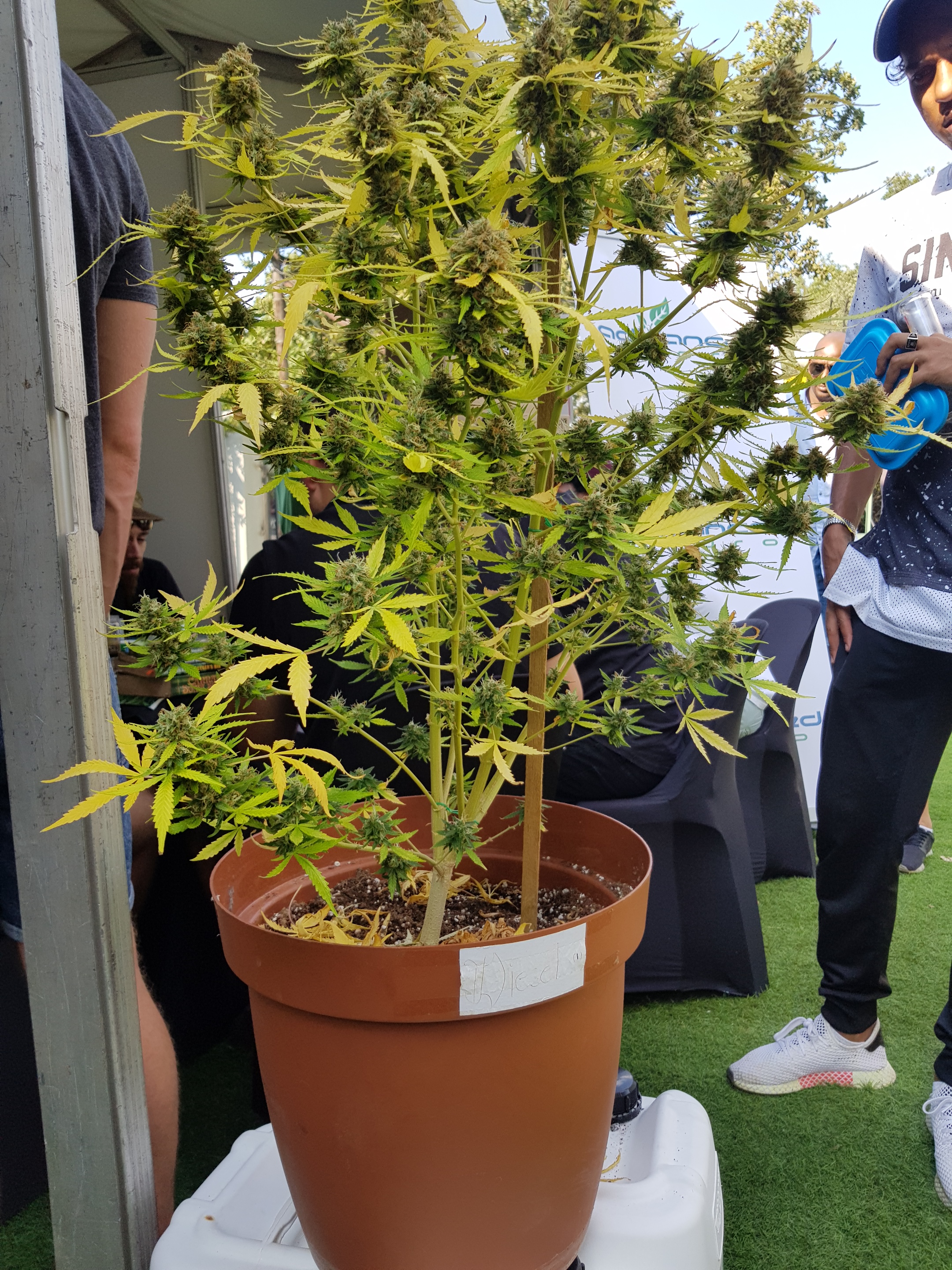 De Kock's system is high-end and designed for big growers. His biggest project was in Lesotho, where he set up a solar-powered grow house worth R17.6-million. It has space for 2 304 plants. "They will make it back in the first six months," he says.
According to De Kock, each plant yields about 300g of cannabis. They take four months to grow, so there are three harvests a year. And the final product retails for about R100 a gram. "Do the maths," he tells us, so we do. According to these figures, revenue for this single Lesotho growhouse will be in the region of R207-million a year.
Some people are going to make a lot of money when getting high becomes a taxable commodity. But where there are winners, there are also losers, and the dividing lines of this nascent industry look uncomfortably familiar to a South African audience. Even dagga may need to be decolonised.
"Look around here," says Rasta Thapelo, a Rastafarian who has long advocated for the legalisation of marijuana. "Every vendor is white." Indeed, the demographics are strikingly pale.

Herbalicious: Rasta Thapelo (top left) takes a toke of nature's gift. (Image: Simon Allison)
He is sitting in the middle of the festival surrounded by several other healers. He says they wanted to be here to make sure that they were not left out as companies with better finance and better access to cutting-edge technology move into the space that his community has occupied for generations.
He is also concerned that smallholder farmers who have been growing marijuana for as long as they can remember will be pushed out by Big Cannabis, or subject to prohibitive new government taxes and regulations.
Rasta Thapelo's biggest fear, however, is for the marijuana itself. "You must respect the herb," he says. He is opposed to the genetic engineering that creates super-potent marijuana strains, saying that it creates fat, unnatural plants that die after a single cycle. "If your child was obese, would you say that was healthy? No."
For President Cyril Ramaphosa's administration, the legalisation of weed may be the single biggest test of whether it can deliver genuinely transformative economic growth. From a regulatory perspective, this is a virgin industry, offering an unprecedented opportunity for this government to set the rules of engagement. Those rules will ultimately determine who profits from the gold rush, and who is left out.
The Cannabis Development Council of South Africa (CDCSA) will play a key role in shaping this debate. The council, established in October last year, has been recognised by the department of health as the official cannabis industry association.
The CDCSA's chairperson, Rozayne Malyo, is not a recreational smoker, but says her son has benefited from marijuana's medicinal properties. She got involved after her events business put on a conference about medical marijuana. Listening in, she was convinced that the industry had a bright future. Now she's at the GrowUp Expo hoping to persuade the other exhibitors to sign up.
"No, not everybody is a member. We hope they would be and that's why we make sure we are at such events and we encourage them to be members. We are all-inclusive; everybody is welcome to be a member of CDCSA," she said.
According to Malyo, there is a hive of activity behind the scenes as both businesses and government prepare for full legislation.
"As an industry, it's going to be very big. All the provinces are working hard, fighting for the same cause, speaking to whoever they can speak to, having meetings and events. Everybody wants the plant to be freed. And it should be freed. It's got so many benefits, [especially] medicinal," says Malyo.
"When you talk about cannabis, the first thing people want to talk about is recreational, but it's not all about that. There's also the hemp part of it, where there is fibre. We have members who are into that."

Promo girls offer R50 'dabs' (above left) that hit like a ton of bricks. (Image: Simon Allison)
For all the interest, and the undoubted enthusiasm, there is still a long way to go before the legal framework changes, Malyo warns.
Warren agrees. He is also nervous about what comes next.
"Big companies will get the licences and the small man will be squashed out and he will be forced to go underground again," he says.
"The people running commercial operations will be taxed so high, it will be run so well, it will cost so much, that people who can't afford those prices will resort [to going] back to underground growers and sellers."
Whatever happens, however, he is determined to enjoy the trip. "Now," he says, "stop working and smoke a joint."