In 1992, South African wineries started using the term méthode cap classique (MCC) to describe the sparkling wines made here because the French outlawed producers outside of the Champagne region from naming their bubbly after it.
The 14 South African producers used the same method as the French — méthode champenoise or méthode classique. The wine is fermented a second time — in the bottle with a cap. The cap is later replaced with a cork and wire frame.
Today the 14 producers have grown exponentially into a grand total of 220 who make the 300 or more MCC labels on the market.
Local brands include the likes of L'Ormarins, Silverthorn, Graham Beck, Filia, Sparklehorse and Saronsberg — most of which are products of generational vineyards.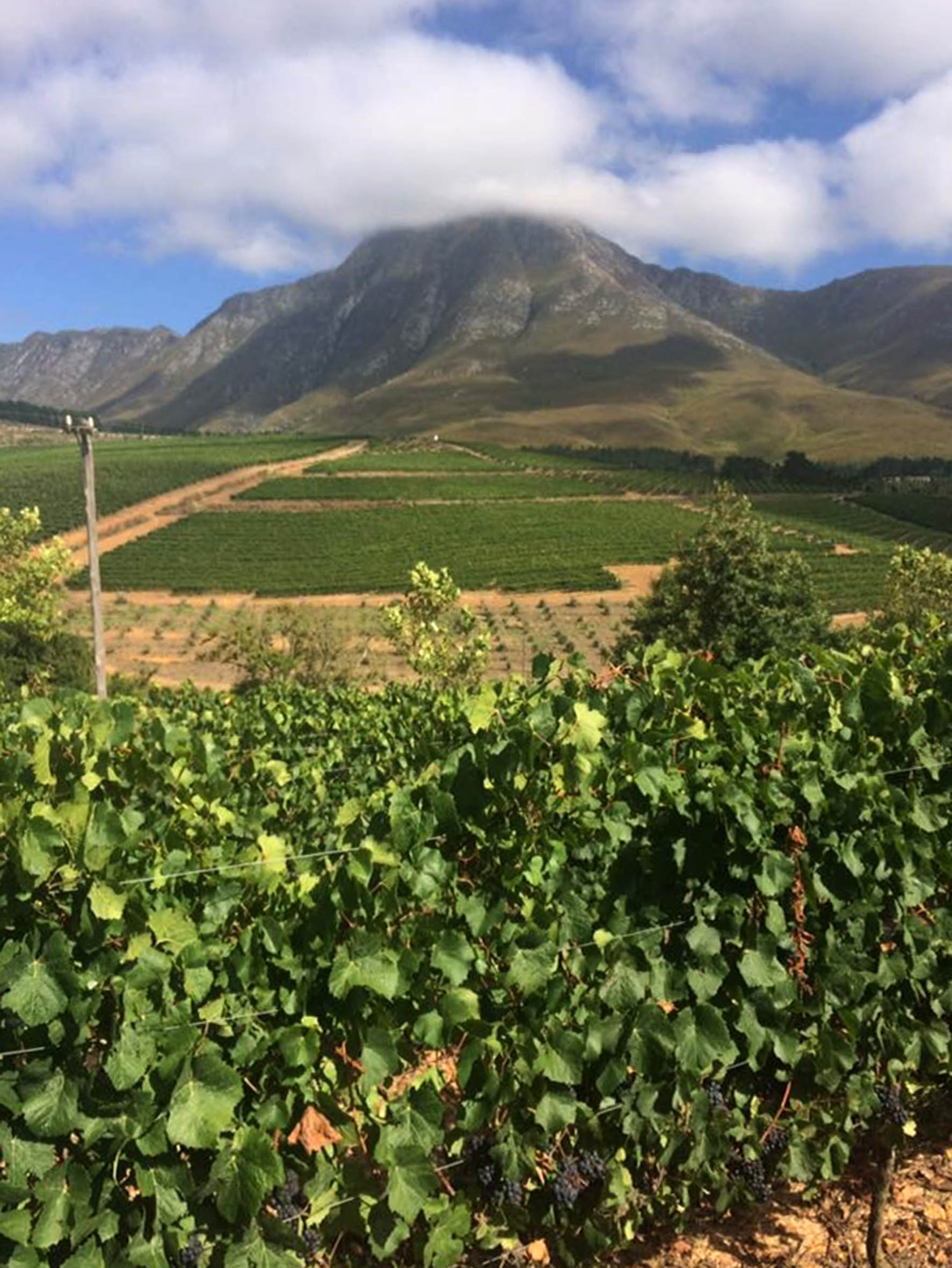 Di-vine darling: The number of méthode cap classique producers in South Africa has gone from 14 to 220 in recent years. (Supplied)
In 2000, the annual total of sparkling wines consumed in the country sat at 5.8-million litres.
In 18 years that number has gradually grown to 9.4-million litres, according to South African Wine Industry Statistics, which specialises in collecting, processing and disseminating information about the industry.
Tshiamo Tladi, a shopper insights manager at South African Breweries, says there is a growing interest in sparkling wine, mostly among black women. And it is about more than just the taste.
"Women are driving the proliferation of MCC and champagne as the new face of luxury. It's no longer whiskey or cognac," Tladi says.
This champagne charge can be attributed to a number of factors that Tladi says all lead back to the performance of luxury.
Instead of remaining in the confines of a celebratory drink, MCC is becoming a symbol of success and opulence.
The research Tladi has conducted shows that millennial women are now more likely to include a bottle or case of bubbles on their grocery list to add some sophistication to their domestic space.
"In a month, I spend about R700 on a case of Krone. In a bad month, when it's not happening financially for me, I spend, like, R300. The prices are a little steep but I think it's worth it," chuckles Remofilwe Mabe.
The 23-year-old student's Instagram and Twitter feeds are punctuated by candid scenes of bubbly accompanying her at breakfast, her plate of pap, chakalaka and mogodu at a chesa nyama or at her desk while she works on her assignments. "I don't know how to explain it. MCC e nale that thing. It says my life is amazing," Mabe laughs.
Pieter Ferreira, the cellar master of Graham Beck, one of South Africa's oldest méthode cap classique producers, explains: "It is the perception and the opportune moment to show they have cash to burn."
He weighs in on the growing interest by saying that, to his mind, a key selling point of MCC is its provision of luxury at a much lower price than its French counterpart. A Dom Perignon Rosé retails for R3 799 while a Graham Beck Brut Rosé goes for R165 a bottle.
The trend is cheered on by the entertainment industry through music, nightclub culture and television.
In the song Monate Mpolaye Cassper Nyovest nonchalantly recites "less stress, more champagne" as a mantra. Then we have artists such as Thebe referring to it as champopo. Not only does it acknowledge the prestige it affords its consumers, but the name Champopo takes ownership of the beverage.
Social media timelines are also bombarded with pictures that look like scenes from a 21st-century take on the parties hosted in The Great Gatsby. Post-party pictures and promotional posters from high-end clubs such as Onyx, Taboo and Kong, which target a mostly black demographic, sell the promise of a regret-free one-night stand or a taste of the sexy, glamorous and carefree life of excess where champopo runneth over.
For consumers such as Mabe, who see themselves well on their way to success (characterised by having a more lavish lifestyle), MCC is hope in a bottle — an accessory to faking it till you make it that can be justified by the socioeconomic blows and obstacles black South Africans have had and continue to be dealt.
With the skhothane phenomenon, the rise of the Carvela shoe and the overall culture of stunting (showing off), it would not be the first time someone had champagne dreams on a beer budget.
---
Bonang says her bubbly is ours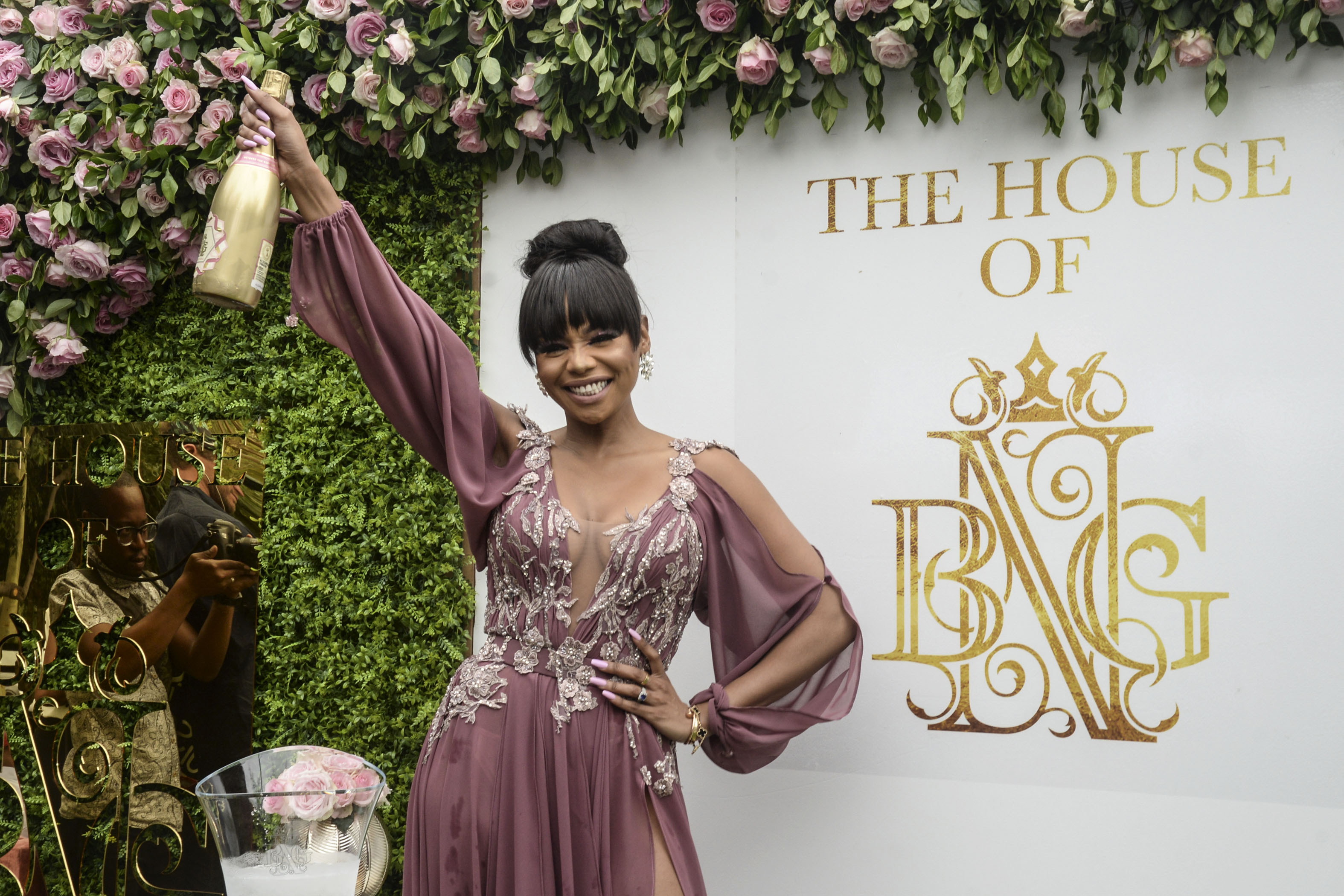 Bonang Matheba at the launch of her méthode cap classique, House of BNG. (Supplied)
When Bonang Matheba flooded our small screens with her bubbly talk in 2017, it didn't take much for viewers to latch on to her "champagne, darling" catchphrase.
The catchphrase in question was often used by the television personality in the first season of her reality show Being Bonang in moments where she expressed her beverage preferences.
"Everything that I say ends up being a quotable. Everyone was using and enjoying champagne to my phrase, so why not make my own?" says Matheba.
A few weeks ago, she launched her own brand of méthode cap classique and became the first black woman in South Africa to do so. Within hours of House of BNG's release, the bottles were sold out.
Having being in the TV industry for more than a decade, Matheba has made the most of her public profile. She went from being a presenter on SABC 1's music show Live to securing deals on most, if not all, major gigs such as Top Billing, the South African Music Awards, Mzansi Magic Viewers' Choice awards and the 2018 Global Citizen concert. Brands fall at her feet for endorsements, she has seen the world and air-kissed global A-listers. She is also afforded online security by her unwavering collective of fans, the B-Force. It could be argued that South Africans have watched, liked, retweeted and emulated Matheba because they consider her to be a beacon of black excellence and sophistication.
The TV personality's relationship with sparkling wine began when she "had a little bit more money".
The effervescent drink became the gold at the end of the rainbow, a worthwhile reward after a series of hard work, failures and unwavering patience.
Available in a brut and brut rosé, 750ml bottles of House of BNG go for a steep R399. The sparkling wine is exclusive to Woolworths until the end of April, after which it will be stocked at retailers such as Shoprite, Checkers and Makro.
Matheba says House of BNG's pricing has to do with the years of experience in working with alcohol brands as well as the lengths that her MCC producers go to ensure a sublime taste experience.
Together with Cape wine master, Jeff Grier, Matheba developed House of BNG over two years.
The bubbly is made by sourcing grapes from various areas in the Stellenbosch region. "As someone who has been in the entertainment industry for 16 years, I've had the privilege to work with the likes of Cîroc and Cavalier, I've been to Champagne and I went to Cognac a year ago. This brand is mine. There is no major brand behind it. I want that when people look at House of BNG, they think it's sponsored. I want it to be so good that it felt like maybe Moët was launching something," Matheba explains.
And as the South African market for sparkling wine continues to grow, figures such as Matheba add a layer of pride to the black consumer's experience.
Matheba sums it up by saying: "House of BNG is not mine. I can feel gore black people have taken it on. It's for our graduations, our 21sts, our weddings, di after tears. It's ours and there's a huge sense of pride behind it." — Zaza Hlalethwa