South Africa is home to many international brands. One of the more recent brands has been Japanese-style company Miniso.
A glance at Miniso's website suggests a global footprint. Started in 2013, the Chinese company selling low-cost, Japanese-branded items now has stores in more than 60 countries including Indonesia, South Korea, Mexico, Singapore, Malaysia, Turkey, Canada, Australia, Brazil, Pakistan, Kazakhstan, Myanmar, Taiwan, India and South Africa.
Starting its local operations in 2017, the retailer quickly grew in popularity with its coterie of cute household and consumer goods including cosmetics, stationery, toys and kitchenware. By last year there were 19 stores in operation, 9 of which were franchise stores.
In an increasingly congested consumables market, however, the uptake here was poor.
As with local companies, it is not uncommon for international companies to go bust in South Africa. One such example is Grand Parade Investments' announcement early last year that it had closed down American franchise Dunkin' Donuts and ice cream and cake shop Baskin Robbins in South Africa because of poor performance.
But the seven Miniso franchisees who spoke to the Mail & Guardian insist that their case was different. They accuse the Miniso franchisor of mismanagement and negligence for failing to deliver stock on a regular basis. Miniso also failed to produce a disclosure agreement that is mandatory when entering into an agreement with franchisees. The disclosure agreement shows the financial status of a company.
Now, all traces of Miniso company seem to have disappeared, the doors of its corporate stores shut.
Tasnim and Zeyn Osman say they've lost more than R4.5-million after they opened a Miniso franchise store at the Glen shopping centre in the south of Johannesburg.
Along with losing money, nine employees lost their jobs. The trend had been experienced by the other six franchisees too.
Attempts to contact Miniso through various channels proved fruitless. A search on the department of trade and industry's Companies and Intellectual Property Commission (CIPC) website, which is responsible for the registration of companies, revealed that Miniso had six directors, of which three had resigned. They were not South Africans. Alternative director, Yizi Dongxiang — who is South African —could not be reached. Email addresses listed on the website and those provided by franchisees went unanswered. Contact details provided by their previous attorneys also led to a dead end.
The only traces of Miniso that the M&G was able to track down in South Africa were the signage on stores and a trail of angry franchisees.
According to the Osmans, in 2017 Miniso invested more than $5-million (about R67-million) in South Africa and opened a number of stores in major shopping malls across the country. Miniso initially opened and operated a total of 12 corporate stores and thereafter embarked on the sale of an additional nine franchised stores.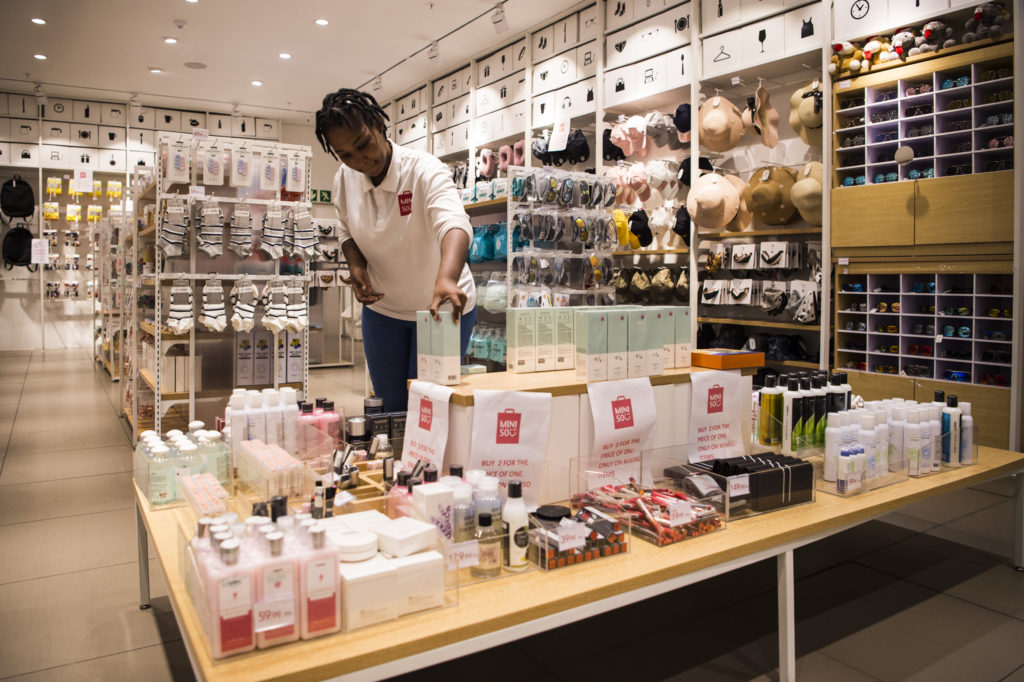 The international company had stores in Menlyn Mall, Norwood Mall, Fourways Mall, Rosebank Mall and Mall of the North.
The franchise agreement was that the franchisee would put in a R2-million deposit for stock (this money was supposed to be refundable). The stock would belong to Miniso and the deposit was to ensure the franchisees secured it. The franchisees then had to contribute another R2.5-million for the store layout.
Daily operations, such as financial management, stock control and replenishment, staff training, management and marketing were run directly by Miniso. The franchisor would pay the franchisees 38% of the money made. In return, the franchisees would carry the expenses, such as mall rentals and wages.
"We saw this as an investment. We basically took all that we have saved from 30 years of work and we put it into this business," said Osman.
Another franchisee, Damian Archer, who opened his store in November 2018 in the Mall of the North in Limpopo said his store manager was "screaming" for more stock, only to be told that "unfortunately there are other new stores to open that must take priority."
Because of a dearth of popular stock in the store, and products that did not resonate with his customer base, his sales kept going down.
"We all knew what the real issue with sales was. The franchise manager told me himself that they were sitting with over R70-million worth of stock in South Africa and that the company had refused any requests for new stock until the current stock had been sold," said Archer.
Archer said he was told that Miniso believed the South African model was not profitable for them.
The Rosebank store franchisee, who asked not to be named, said he was very disappointed that an international company could just pick up and leave.
"I had initially thought companies of that size would worry about their reputation and protecting their brand," he said.
He said he has a huge debt with the bank and is struggling financially, but is in the process of transitioning his store to Yoyoso — a company that sells similar products.
The franchise association of South Africa (FASA) said it regularly receives complaints from franchisees who have paid money over to franchisors and not received the promised assistance, equipment or stock.
"There is always a risk in dealing with a foreign party, whether in a franchise context or otherwise, that if the foreign party withdraws from South Africa, and has no assets in the country, it will be extremely difficult to enforce any rights against it," said Vera Valasis FASA's executive director.
Valasis said if the franchisor can be located in its home country, it might be possible to issue proceedings there, but there were usually major procedural and financial implications in doing so.
Tracey Swanepoel, a lawyer at Seton Smith and Associates, said she has declared a dispute on behalf of the franchisees.
In November last year Miniso had a sale at their corporate stores where many products were sold for R40. This sale was not communicated to franchise stores.
Franchisees believe the sale was put up in order to sell as much product as they could before leaving the country.
Miniso has been widely criticised for being a Chinese copycat of well-known Japanese brands and that even its labels are garbled.
Tshegofatso Mathe is an Adamela Trust business reporter at the Mail & Guardian