I remember Emily's from the early 1990s, when it was the most expensive restaurant in Roodebloem Road, Woodstock. The food was cooked and served by Peter Veldsman, food writer and two-decades-long editor of Sarie magazine, and Johan Odendaal, who had returned from Norway, where he was chef to the South African ambassador.
The place had only 24 covers. The backstreet boys, as they were happy to be called, catered to locals, adventurous diners from the leafy suburbs and celebrities out slumming it.
The rainbow nation had just been born and South Africans were blazing trails and reinventing themselves. Trying to define a national cuisine was part of the political and social transition. In 1994 Veldsman established the rather grandly titled Culinary Art Institute of Africa.
Emily's bill of fare was dubbed, affectionately, "white trash" cooking. Its repertoire grew into a sort of Afro-Euro cuisine, but has always been distinctively South African, with a strong Boerekos footing.
Post-millennium they were made an offer they couldn't refuse, and Emily's relocated to the clock tower precinct of the V&A Waterfront. The clientele changed completely. I confess, I never went once during their 10-year tenure in the V&A.
Both chefs have a strong background in formal Continental cuisine and they marry this with local character, to the marvel of overseas visitors.
From informal eats to family orientated fare
Emily's has now moved to my doorstep, into what was once the Huppelland Preparatory School on Kloof Street, rejuvenating the neglected Dutch Reformed Groote Kerk complex better known for its soup kitchen queues than its fine dining.
The interior is vintage Veldsman, with white tablecloths, Boere baroque chairs and pink accents. The large lawn with tables for alfresco dining is sure to prove popular once the Cape southeaster dies down. During the day the restaurant serves informal café-style eats such as toasted sandwiches, hamburgers, salads and pastas.
Between 5pm and 7pm, the food changes to family-orientated fare. Thereafter it is à la carte, with a menu that changes weekly – though there has been much consistency in this first month (October) since the opening.
You'll see either Odendaal or Veldsman around, but the food coming out of the kitchen is now mostly prepared by their bright young apprentices.
Sometimes one is greeted with a complimentary drink. Sitting next to the NG Kerk, a nagmaalwyn (communion wine) cocktail – Muscadel and lemon zest on crushed ice in a martini glass – seems a wholly appropriate aperitif.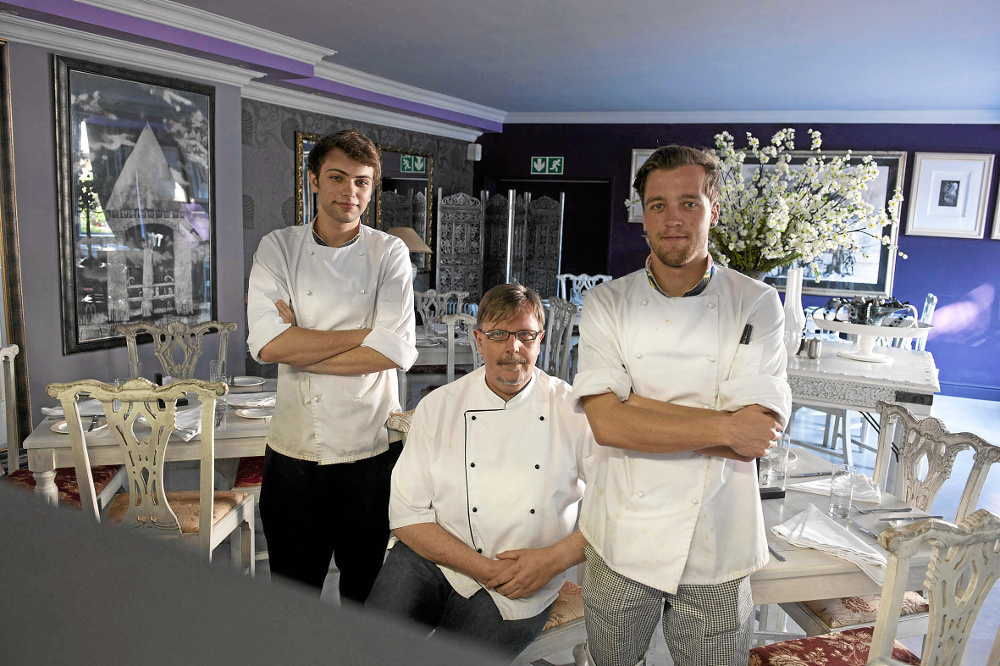 Chef and owner (centre)Johan Odendaal with his team Gerdus Bron (left )and Wayne Labuschagne,(right)
The amuse-bouche is usually served in a bent spoon that looks as if self-proclaimed psychic Uri Geller had turned his mind to it.
For starters, you cannot go wrong with leafy, beautifully dressed "under Table Mountain" salad with a typically Afrikaans sprinkling of red beans and butter beans.
Also true to the Cape is the pickled yellowtail with curry mayonnaise, potato salad and avocado. When I had it though, one piece of fish was firm, the other somewhat "pap".
The smoked vlakvark (warthog) carpaccio has a bacon-like favour and a tongue-like texture. It is served with a panfried duck liver on cauliflower purée with novel little cubes of coffee jelly and berbere. That last element is Ethiopian and has ghee, onions and mashed garlic.
A more complicated affair is the veal shank curried brawn with a coriander leaf yoghurt sauce and lettuce greens. I was assured the brawn was without brains, but made instead with shin, cow heel and trotters. Apricot jam seems to be a secret touch.
It is served with traditionally pickled small white onions called slaphakskeentjies – a corruption of slaphaksteentjies, literally "little loose heel stones", because they resemble the smooth pebbles one so easily slips on while walking along dry riverbeds.
A delectable assortment for the main dishes
For mains, there is usually bobotie made with meat very finely minced and flavoured with distinctly Cape Malay spices and served with pumpkin fritters, sambals and poppadum.
I always thought life was too short to debone a quail, but here they do it with aplomb, stuff it with ostrich (there is something humorous about the concept), and present it on a bed of "African risotto" (made with cracked wheat instead of rice).
You can also have good old vis and tjips (fish and chips). The yellowtail was perfectly cooked, but the chips are "slap" style, burnt oil and all, and on the night I tried them so over salted that my tongue frizzled like a snail in a biltong factory.
The Navarin de mouton, our waiter explained, is simply lamb tamatie bredie. It is a very big plate and very rich.
The braised beef short rib comes with the best samp and beans you are likely to find. Unlike the rustic version, here the maize kernels are clean and distinct. (Incidentally, the word samp actually comes from the North American Algonquian tribe.)
Emily's is also home to a superb waterblommetjie bredie with dahl, rice, pears and beetroot sambal. Usually the waterblommetjies (the edible Cape pond weed Aponogeton distachyos for those who want to know) are cooked away or heavily disguised, but here you get to enjoy their distinct flavour.
For sweets, try raiding the growing ice cream larder. I've had persimmon, caramel, coffee and white chocolate ice creams. Or, sticking to the traditional, have sticky baked ginger pudding with sweet potato and honey ice cream, apple purée, caramelised apples and custard.
After 10 years in Woodstock and 10 years in the Waterfront, Emily's seems set for the next decade.
---
Emily's Restaurant, 55 Kloof Street, Gardens, Cape Town. Tel: 021 424 0882