This is not the cordial gent you've come to know from press conferences over the past decade. This is Pep Guardiola as the players get him — the possessed manager who will accept nothing short of the annihilation of his opponent.
"Are you going to defend the fucking set pieces like you're animals?" he demands in the Old Trafford dressing room. "Do you know how many hours we have spent here? Competing with each other to play every fucking single game. To win what we have in forty-fucking-five minutes!"
We are now privy to glorious scenes like this thanks to the documentary series All or Nothing: Manchester City. It's the latest in the productions that have previously featured National Football League teams and the All Blacks.
Somehow, and for a fee of only £12-million, the Cityzens were persuaded to allow Amazon's cameras behind intimate lines for the 2017-2018 season.
Seemingly no area was off limits. We've had plenty of behind-the-scene looks before but nothing like this. For eight episodes of roughly 45 minutes each, every conceivable aspect of footballer life is covered during the club's indomitable campaign. From those dressing-room tongue lashings — before, during and after a match — and board meetings to tactical briefings,training sessions and Benjamin Mendy going into surgery.
Even the most mundane of club duties can't escape attention. "Hot water, cold water and a little bit of elbow grease."That's the secret to cleaning the players' boots, the kit man explains. In another scene those responsible for laundry break down the players' preferences in underwear. Then there's the freezer where players are locked in for a minute-and-a-half to relieve tension in their muscles.
It's ostensibly insignificant details like these that inveterate fans drool over.
The tactics talk is equally rewarding. Kevin de Bruyne's long-ranger at the King Power Stadium is a strike match day commentators might describe as a "moment of magic", something sparked out of nothing. Now, behind the curtain, we see Guardiola pointing out to the Belgian on a whiteboard at halftime that the Leicester City centre backs have a tendency to back off, creating a pocket of space in front of them — one perfect for him to shoot from.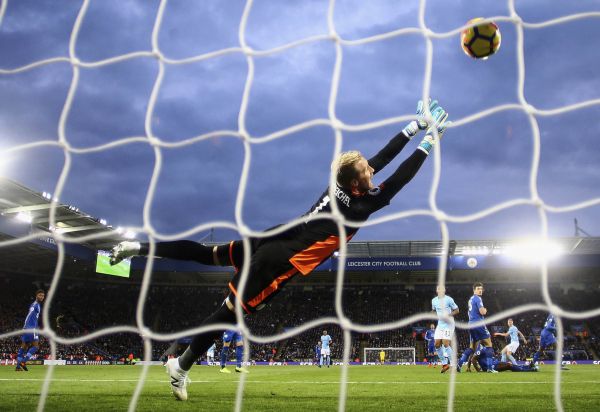 Kasper Schmeichel of Leicester City dives in vain as Kevin de Bruyne of Manchester City scores his side's second goal during last season's Premier League match. (Richard Heathcote/Getty)
Not planning on enjoying those finer points anytime soon is Manchester United rival José Mourinho, who has inadvertently advertised the show with his whines.
"I haven't seen it but I know a few things about the movie," he told the media last week. "My reaction is, if you are a rich club, you can buy top players but you cannot buy class. That is my first reaction."
He also insinuated that the series used his image to sell more streams. In truth, there's not an unsavoury amount of slandering going on. A few references to how he pioneered park-the-bus football aside, he only really comes into focus during the heated Manchester derbies.
What is evident, one could argue, is how Guardiola has surpassed the Sour One as a manager. Where Mourinho has built his recent reputation off publicly chastising his players, his counterpart usually comes to the defence of his when their abilities are questioned by the media. Swearing rants and outbursts may be fairly common in the dressing room but he never singles out one player or castigates them in front of teammates — at least not in what we get to see.
This is one of the biggest criticisms levelled against All or Nothing. The show portrays City in a very, very good light."Sanitised" is a word that is being bandied about.
The club, which has taken it upon itself to advertise the series, insists it had no editorial control. But it may not be that simple. Amazon is intensifying efforts to broadcast games and encroach on the Premier League market. It has a vested interest in ensuring that City —rapidly entrenching itself as the country's undisputed best —comes out looking sweetly polished.
Then again, there was not that much adversity to broadcast in a season during which the Cityzens swept almost everybody off the pitch. (Unless there's some footage of the alleged mistreatment of Yaya Touré lying in the recycle bin on some editor's computer).
For viewing purposes this is a shame. The documentary's most gripping moments come from hardship. The painful tears in Gabriel Jesus's eyes as the medical team deal with a fresh injury could never be acted. Nor could the dejected faces after Manchester's undefeated streak was killed off by Liverpool.
The dynamics of the dressing room are unveiled five minutes after their defeat to Manchester United.Victory would have sealed them the league at the home of their most hated rivals.Some players sit dead still in front of their lockers, others can be heard swearing and throwing bottles, Fabian Delph rants about how everyone failed in their basic duties, captain Vincent Kompany preaches the importance of not blaming anyone and Guardiola tells everyone to shut up.
Such exchanges are presumably commonplace at less successful clubs. How fascinating would it be to have a season's worth of backstage footage from Huddersfield or Burnley,teams that spend almost every minute faced with the pressure of relegation?
Serious ramifications could arise in the media but, for fans and clubs, the upside seemingly far outweighs any possible negatives. Fellow English giants such as Liverpool and Arsenal could build their brand, while simultaneously promising sponsors added exposure should they decide to implement a similar project.
There's no denying All or Nothing is an orgy of a fan service for Manchester City backers.
But as a follower of another club, watching six hours of the series in a short space of time can get a trifle nauseating. Still, there's enough details and not-seen-before goings-onto keep most viewers enticed and, coupled with how relatable and likeable City come out from it, it's hard not to envision more clubs going the same way.