Early in December, I spent a few days in Wupperthal, a small town in a valley of the Cederberg Mountains. I planned to return after Christmas to spend a few days in the village, ringing in the New Year with its residents.
I did not make it back to Wupperthal. I awoke on New Year's Day to the news that a raging fire had left at least 200 people homeless and several historic buildings in ruin.
My journey to Wupperthal was the first time I had been back to start working on a book-length essay on photography and memory.
In the winter of 1987, I spent a few miserable weeks not knowing where money for rent would come from. I rounded up a colleague and friend, AGRB. We stepped out of The Star's offices in Johannesburg and ended up in Wupperthal.
The following are excerpts of the introductory chapters of the essay that I had begun to work on, and that I have shelved, again, because of a lack of resources and the fire.
The flood
In the winter of 2008, I returned to my home in South Carolina, after few days away. The front door was stuck. I pushed harder and heard a squelching sound. The carpets were drenched. There had been a plumbing failure in the apartment above mine and water had seeped through the floors. Thousands of books, journals and papers were destroyed, including a hand-illustrated copy of Fyodor Dostoyevsky's Crime and Punishment.
I retrieved a box of old negatives and prints that I had carried with me around the world. After I lost most of my negatives and prints during a "burglary" of my flat Yeoville, Johannesburg, in 1987, I had become protective over the remaining negatives and once rejected prints.
Now I held a congealed mess of memories mashed in plastic and emulsion. I washed the negatives and prints, and hung them on lines that criss-crossed my apartment. They were my crossed-lines of memories, I told myself.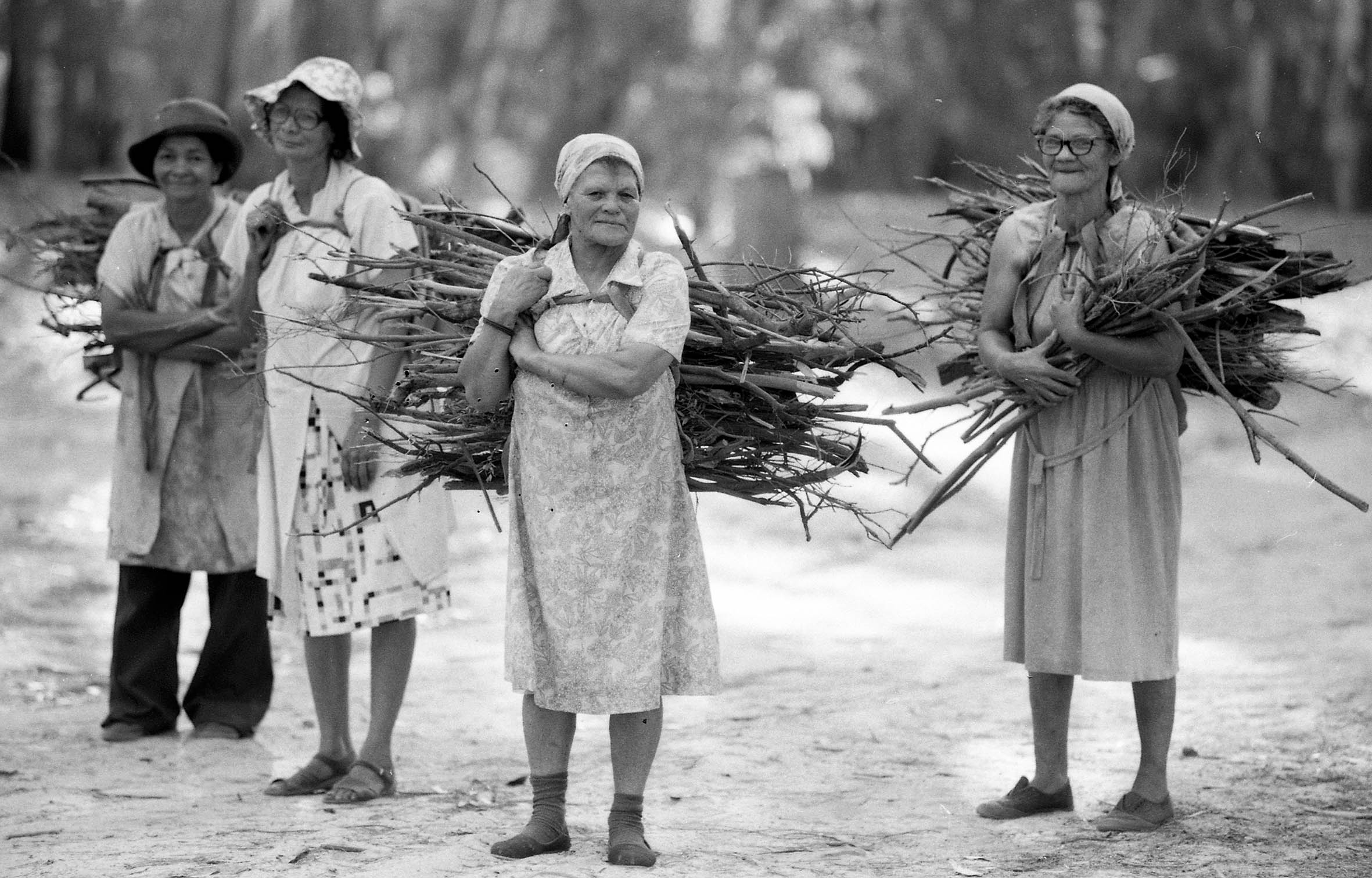 A group of women carry wood on their backs to stoke the early morning kitchen fires in their modest homes in 1987. Photo: Ismail Lagardien
I spent the next few days digitising the old negs and prints. Each picture of those first years of the states of emergency, between 1985 and 1987 revealed itself again. Two sets of photographs stood out.
One was of the first joint South African Defence Force and South African Police roadblock at the entrance of an East Rand township. The second was of photographs of (mainly) children I made during my first short stay in Wupperthal in the spring of 1987.
Wupperthal, 1987
We arrived in Wupperthal at about midnight. Descending into the valley along the precipitous dirt road, AGRB remarked: "O Breyten [Breytenbach] call this place purgatory." I never tested the veracity of that claim. It seemed appropriate at the time. We were in a liminal space. We had lost our income, set off on a long road and did not know what the future would hold. Three or four months later, I would return to working full-time. AGRB was not that fortunate.
We were tired of sleeping in the car for weeks on end. Wrapped in sleeping bags, we were lodged in narrow hollows on the ground, comforted by mounds of sand on each side beside a thicket of trees. We were woken early in the morning by shrill laughter.
"Wie is die mense? Hoekom slaap hulle in die begraflaas?" ["Who are these people? Why are they sleeping in a cemetery?"]
A group of women emerged from the forest and stood in the pathway at the edge of the graveyard where we had spent the night. They carried bundles of wood on their backs. They were bemused, at first by the bundles that lay between graves, and then they were startled by the camera I withdrew from my sleeping bag. I shot a few frames.
"My Here, wat is daai ding?" asked one woman of the other. "My God, what is that thing?"]
"Moenie worry, auntie, dis a kamera," I said. ["Don't worry, auntie, it's a camera."]
"Jirre, mister, dis a groot kamera," she said. ["Gee, mister, that's a big camera."]
They stood close together, the four women, and moved slowly, in step, like line dancers, staying together, sideways then forward. I introduced myself. We were just visitors, I explained. We arrived in the middle of the night and, because of the darkness we could not pitch our tent, so we rolled up into sleeping bags and slept in narrow hollows, the gullies between grave mounds.
Seemingly confused, one of the women pointed to AGRB's red boots protruding from the blankets.
"Kyk daai skoene," one woman said. ["Look at those shoes."]
We would find out, later in the week, that Wupperthal was famous for the red velskoene that were popular in South Africa at the time.
The people of Wupperthal were intrigued by the two strangers.
"Wit mense kom bly nie met ons nie," said one fellow. [White people don't come and stay with us.]
The villagers could not understand that I was not white. I had fair skin and green eyes.
"Wat is meneer dan?" [What is mister then?]
"Ek is n kleurling," I said. [I am a coloured.]
Before the fires
In Wupperthal, in December 2018, I met the former principal of the school, Hernice Heynz, and his wife, Sylvia Heynz, and showed them the pictures I took in 1987. They identified the people. The children were now adults, some with their own children.
I used my phone to take a few pictures of the streets. I had long since lost my nerve as a photojournalist. These days, I can barely contend with shoving a camera into the faces of misery, suffering and pain without feeling like a voyeur. I photographed only the streets and houses.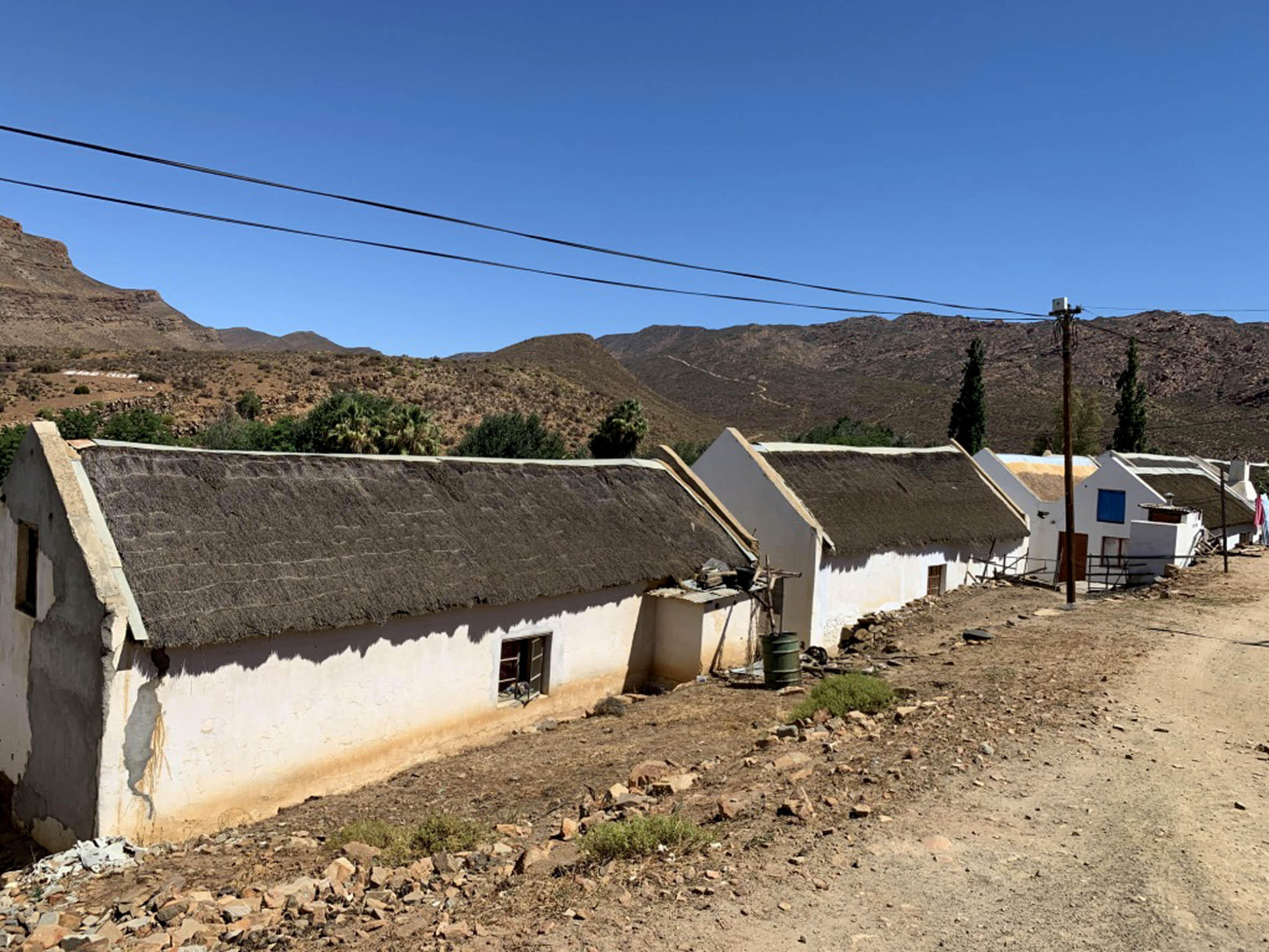 Hellish? The town of Wupperthal in 2018. In visit to the town in 1987, a friend of the writer remarked that author Breyten Breytenbach had once referred to the town as 'purgatory'. Photo: Ismail Lagardien
I had lunch in a small restaurant, Lekker Bekkie, and took photos of items on the walls and tables. One picture was of a shirt with the word, Berufsfeuerwehr, a nod to the German spoken by the early missionaries who established the village as a mission station. The English for it is "fire service".
I left the village, thrilled that I had finally started the project. I did not make it back. I had an engagement on January 1 that I could not miss … That day, the news of the fires came through the wires.
Maybe I will return, someday, to speak to the people, hear their stories, record them and photograph them again. In words and images, the book, when it gets done, will be about Wupperthal and its people.
But I would feel dirty, perverse and imposing if I went back now. The world is image-choked. I have long since lost the nerve to hide behind a viewfinder and imagine the gesture of photography as an act of non-intervention. I am of a generation that predates Instagram and Facebook. The generation with the sensibilities that the gesture of photography is not neutral and its perspective is never neutral.
When I do go back to Wupperthal, I will let the people tell their stories through images and text.