Home Is Where Music Is — Hugh Masekela, 1972 (Chisa/Blue Thumb Records)
The question "what exactly is South Africa?" perplexes us still, even aeons after the country's prophets, media, novelists and soul leaders trading in mystical arts spirits wrestled with it.
It has seized our seers — poets, painters and photographers — for decades. It self-dramatised its embedded yearnings and psychic pain on our political landscape long before Whitey, explorer, Huguenot and that era's veritable versions of discarded "Eutotrash" — social outcasts, hustlers, gold-diggers, never-do-gooders — disembarked from a ferry bearing the mirror, White Jesus and lust. Before Whitey was "white" and before he was even "European". Before putting up his makeshift tent down eMzansi on his median pee-stop on a bicoastal jaunt to the Far East, in search of spice and a tan, hon.
Uhm, there were no novelists and the media then? Dang!
I don't know about you, but for me it's the ultimate perennial question. Woven into the vast and deeper philosophical quest in making and remaking a country (a newly narrow social construct as it nay) is of course desperate yearning to put a name on it: What is home? Where is home? Why do specific locations, songs, colours, languages and cultural mores evoke home?
This land of ours (but then again, who is "us"?) remains a beatific distillation of various nations and histories, some troubling, some heroic, none complete, all complex, cajoled into a Western notion of nation-state called "country". Thus, like most contemporary state formations going back to the 15th century, South Africa has moulded itself into a necessary fiction, namely country, and, with that, peopled itself with pull 'n push characters making up this grand ideal called a "nation".
Elsewhere the social, administrative and cultural ideals of nation-states are being challenged and in turmoil. On the one hand they are becoming obsolete and, on the other, particularly since the 9/11 attack into the heart of global cultural cosmopolitanism, New York City, the nation-state is reconsolidating.
Necessarily fluid as they may be, religion and culture are at the core of the rooting and rapturing; they are also reorganising pillars as well as dislocating mechanisms, as it were, of nationalities and borders. They are also fuelling social reimaginations and are at the heart of dreaming up our collective selves anew. Feverishly, perhaps. Necessarily, sometimes.
Ah, home! It's a subject that bedevils and showers contemporary people with gifts to ponder their relationship with others, all at once.
Although not as visibly affected, at least to its roots in ways tragic, South Africa is not immune to these global currents. Occasioned by the incendiary tertiary students' decolonial movement, the questions of land and pride, and with them race and cultures, all axiomatic aspects of any nation's pivot, have reared their heads.
Land, home, culture (Who am I? Where is home? What songs best reflect my people's stories?) have become the ground zero for the renewed but not quite new battle of the soul of the country.
The battle is not exclusively fought in the political arena, but also in the cultural revival tents across the land.
Music, that unifying and sometimes "schismatic" concept (Is the Eastern Cape or Cape Town the original home of South African jazz? Was Senyaka and not Brenda Fassie and Chicco the true progenitor of kwaito music? Can you utter punk and Africa in one phrase with a straight face? Is the Romeo in Senyaka's O Shwa Jwang O Nkolota? the one we all assume it is? Is the Xho-pera vocalist Mthwakazi the only legit heir of Madosini and the Eastern Cape's oral and healing musical traditions, and are those Jo'burg cultural hipsters and hustlers merely curated charlatans?), has become at least the most reliable and quickly transmittable source of national, regional and local secrets and stories, if only for a joyous minute — a point not lost on some cultural agents working in the nation-building sphere.
The chief executive of the Buyel'Ekhaya festival, Nomahlubi Mazwai, pairs up her outward-looking national, continental and indeed global pan-Africanist outlook with her internal gaze and fixation towards the local.
An Eastern Caper to the marrow, Mazwai's grandparents migrated from the amaHlubi stronghold of Matatiele to Ludeke, one of a cluster of picturesque Mbizana villages in the heart of Pondoland, where she grew up.
Decades later, working as a strategist in Johannesburg, not unlike hundreds of thousands of her provincial sisters and brothers, lady done got bitten by home blues. Which is not to be confused with homesickness. Blues means: "What can I gift back to my home?" and sickness boils down to psychic disconnect and nostalgia. Saudade, the Portuguese call it.
For Mazwai home was and still is not a matter of mere roots or infrastructure. Those mattered too but they are not all home to her and her cohort of Eastern Cape-born professionals and cultural visionaries. Home, she told me in an interview, "is the Eastern Cape in its myriad and fractured wholeness".
She alludes to the fact that the story of the Eastern Cape, with all its historical frontier wars, geographical locus, was among the earliest arrival places for European settlers. The results were both tragic and wondrous. As the land became a settler colony, there came the establishment and furthering of spiritual and class schism among the natives — among the Koloni's (the colony's) believers and nonbelievers, amaqaba and amaqoboka.
The place holds a peculiar, if unique, place in the grand South African narrative, as among the earliest sites of the interface between the white man and the African. It is no coincidence then that historically it sat at the nexus of black modernity and contributed to the nature of its resistance traditions.
A province with that story is an ideal experiment for self-mythologising, and what better way to achieve that but through the performance arts?
In 2009, Mazwai approached the administrative and political figureheads of Buffalo City with an idea to initiate an annual musical festival going by the name of Buyel'Ekhaya, which means "going back home". The name itself is both literal and figurative. It expresses the idea of trekking back to a place called home in body and spirit, but also going back home as a metaphor for giving back to where one comes from.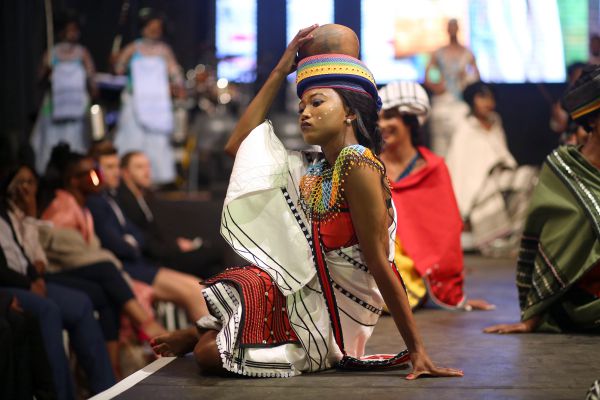 [Back to the future: A model shows a modern take on traditional dress (Mark Andrews)]
Though not quite as simplistic as that, it is out of such emotional quests that concepts such as the black tax have arisen. Although the black tax has been trivialised, mocked and embraced all at once, musical offerings such as Khumbul'Ekhaya espouse grander visions. It's less about paying back than sharing back.
Less about taxation than contributing with the express aim of arousing a sense of provincial, national and also linguistic and cultural pride in a people whose souls have been deeply gouged and ripped to pieces by the vagaries of history, colonialism, false prophets and, ultimately, although Mazwai is understandably cautious, the current political establishment.
Elsewhere in the political terra firma, the province, once the model for unity and liberal political sensibility, not quite ideologically liberal, finds itself in political tatters. To the extent that it has gone to the ANC elective conference as a shadow of its former self — a province at a political crossroads, divided, battered, shameless, mocked, a once-reliable voting block steeped in the Congress tradition, now led by a clusterfuck of bumbling and idiotic aspirants.
If that's enough to knock the wind out of any visionary — for the South African story and polity is, necessarily, if too fixatedly, coloured, shaped and enlivened by politics — exasperate no more, chile. All is not lost. Music is still the last refuge for battered souls.
At its inaugural staging in 2009, Buyel'Ekhaya, with a local municipality sponsorship of R2-million, drew 5 000 revellers to its initial and still current home, the Buffalo Park Cricket Stadium in East London.
It continued to grow in leaps and bounds and Rhodes University was commissioned to do a survey study, Mazwai says, "to assess the direct economic impact of the festival on the local economy".
"We are still awaiting the results."
In 2011, after seeing a minor slump the previous year as a result of competing with the 2010 Fifa World Cup for people's pockets, it recorded an attendance of 11 000 revellers. That might be a sucker-crowd for rock 'n roll gladiators such as Kings of Leon, The White Stripes or fabulous geriatrics such as the Rolling Stones, but for a province as economically starved as it was, that was no cheap-change fo'shizzle.
In 2016, and again in 2017, the 24 000-capacity arena filled up pretty pronto without so much as an Instagrammed hashtag. No single ticket or backdoor favour, beloved by South African middle classes, was brooked. I was there. A stranger in the village but content at home among thousands of joy seekers. It rained and rained and rained until our tank tops and silky sarongs clung wet to our various African shapes like a thousand Mamlambo emerging from the depth of an ocean.
It didn't matter that we were in a pop, commercial and drunken séance with no possible healing of any kind other than the fleeting sense of delirium millions of black folks crave after facing or running from a myriad depressions and social media-engineered raptures that are part of Mzansi's tumult all year round.
The stadium has become too tiny a bowl for all these beautiful African fish, too suffocating a venue for a festival that has become a national symbol of local cultural patriotism at work.
If there's anything to be learned, although it is lacking in gravitas and political will in other aspects of the arts, at least the city and the province's leaders have realised that music is after all just about their only saving grace.
If usually depressed, the province's story shrouded in blood-dripping white and red blankets of mountain initiation stories into manhood gone awry (though that narrative is partly the construct of the nouveau black middle class and its white cultural establishment's handlers, as is the "msunery", to reference the poet Koleka Putuma, of thug-life "gqhiras" and "magwazas" manipulating traditions for self-enrichment), come December, everything else stops and the province, indeed the country, lets out an animated "Ooooweeeeee-yeahhhh!"
In the Eastern Cape at least once a year, the only audible sound is the rhythmic beat of a people in anticipation of one gorgeous, physical and metaphysical release channelled through the most sacred and erotic of human expressions — dance!
The recent show's line-up itself was brimful of pop culture's prime movers and shakers.
Dig this! International electronic dance music producer Black Coffee, Destruction Boyz and, before you exclaim "Thixo! What kind of name is that?", Lady Zamar and Oliver Mtukudzi, alongside homegrown talent such as Amanda Black, Berita, Vusi Nova, Ntando and two local acts umbilically wired to the topography of that land — Zahara and Ringo Madlingozi.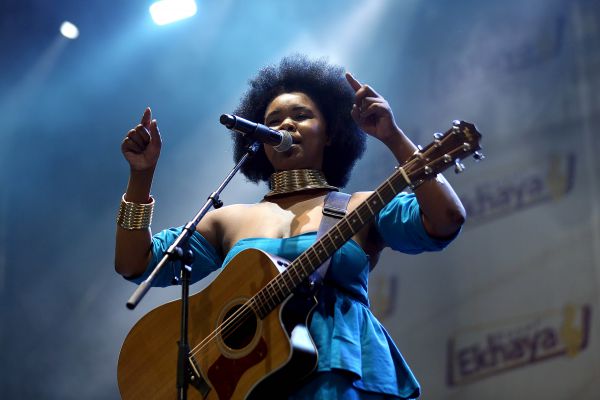 [Afro-folk singer and songwriter Zahara (below) gives a voice to the event. (Mark Andrews)]
Collectively, a buffet of festival staple: omunye phezu ko munye!, as the no-translation-necessary street anthem goes.
Hardly a music-only bash, the festival has metamorphosed into a growing cultural stomp. The proceedings of the three-day affair kicked off on Friday with a fashion peacock-strutting. The second iteration after the 2016 one, and held at the Orient Theatre, the fashion do was ushered in by the scintillating performance of the grand Xhosa sage "uGogo Madosini", the bow and hum queen.
The fashion shindig gave spotlights to Eastern Cape designers such as the world-renowned Laduma Ngxokolo of the ubiquitous label amaXhosa, Lungela Sijila, Zandile Goniwe and Onke Ludidi, alongside marquee brands such as the Mozambican designer Taibo Bacar, David Tlale, Thula Sindi and Gert-Johan Coetzee.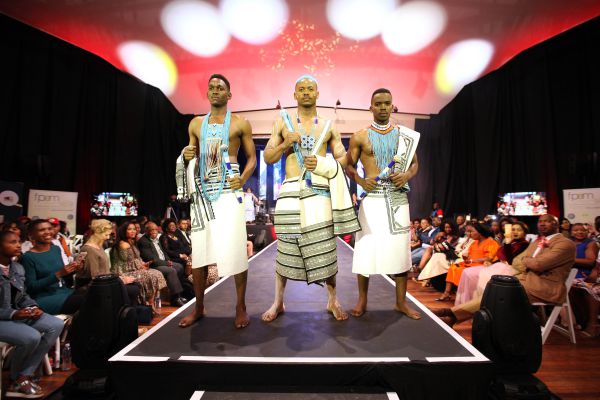 [Trending: Models at the Buyel'Ekhaya festival in East London (above) give a new look to something old. (Mark Andrews)]
But it was on the wet grounds and muddy fringes of the arena that a Woodstockesque ritual blew up on Sunday.
Look here, voodoo child, throughout history and the scriptures, the centrality of music in all facets of human development cannot be overstated. Buyel'Ekhaya 2017?
'Tis on the middle of the pitch where thousands of black bodies coalesced matter and spirit in the transcendental no-man's-land.
Do we expect a country to speak in one voice? A result of a wondrous and magical spiritual séance festival like this? Let's not beat about the African bush — this country is swampy with festivals.
And yet, there's something about this one that chimes with the renewed sense of local and regional pride right across the country, such as the Shumela Venda, Macufe in the Free State, the Klein Karoo Kunstefees, and so on — all regional pride restorative projects thriving in parallel and not in conflict with the national project.
Amid the delirium one ponders still: Are South Africa's sum parts able to build, indeed coalesce, around culturally federalist arts spaces, if only for the development of local talent and economies?
If so, how would these sum parts entrench themselves and grow into culturally grounded trickle-down economies without whipping up about the monster of ethnic chauvinism?
To wit, can local jive (as in song and dance) outlive and teach national jive (as in dissonant anxiety) some hot dance moves or two and agree to disagree along the way?
Bongani Madondo is the author of Sigh, the Beloved Country (Picador Africa), a contributing editor to the Johannesburg Review of Books and an associate researcher at the Institute for Social and Economic Research at the University of the Witwatersrand. His research interests include narratives on how music and visual culture shape notions of home and alienation